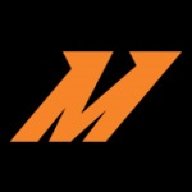 First Name

Mishi
Joined

Jul 5, 2018
Threads
Messages
Reaction score

422
Location
Vehicle(s)

Jeep Wrangler JL
Hey everybody,
Thought you'd be interested to see our (and possibly the world's?) first ever dyno run with the new 2.0T JL!
Our highest run was 227-WHP 264-WTQ - these turbo engines definitely have a decent amount of torque, and lots of torque under the curve!
UPDATED:
Hey everybody,
We had a 3.6L JL in today for some product development and figured we'd run it on the same dyno that we ran our 2.0L on and share the results. Check them out! I broke out the torque and HP so you can see the differences a little clearer. All runs were done on our DynoJet, in 4th gear, both automatic transmissions, and ambient conditions were very close for each.
2.0L VS 3.6L (WTQ & WHP) | 2.0L - Blue / 3.6L - Red
2.0L VS 3.6L (Torque) | 2.0L - Blue / 3.6L - Red
2.0L VS 3.6L (Horsepower) | 2.0L - Blue / 3.6L - Red
It looks like the horsepower for the 2.0 is right about dead on with a 15% drivetrain loss, but the torque is definitely underrated. I wonder if they did their calculations with the E-Torque system disabled, but that probably wouldn't affect peak torque that much.
What's really interesting to me is that the Pentastar is supposed to make 17 BHP more than the Hurricane, but they came out pretty close on the dyno. Like I said, the 3.6L did have heavier wheels and tires, but I don't know if the difference was enough to lose 14.5 WHP.

Our 2.0L has survived 8 runs on the dyno and about 800 miles so far; we'll see how it holds up!
Thanks,
-Steve
Last edited by a moderator: