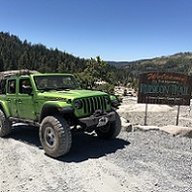 Joined

Jul 30, 2018
Messages
Reaction score

918
Location
Vehicle(s)

Mojito JLUR
Vehicle Showcase
Just finished up installing the Game changer 3.5" with rocksport shocks.
For those curious about bump stops, If you use the outboard shock mount and use the rock sports you will need a 3" bumpstop extension in the front there isnt enough uptravel in the rocksport shock due to how much droop the shock provides.
Fully dropped out i actually had to start pulling all the clips from the frame rails for the e-locker and fad. Also had to tweak the diff breather since it was stretching out as well.
The rears were not too bad and i just ended up going with 3" of bump in the rear. The only additional clearance was bending the brake line brackets near the bump spot upwards towards the frame. Also moved the e-brake cables to below the subframe and under the evap. The e-locker wiring also had to get unclipped on the frame.
Wifey did the first test drive and she immediately noticed how much better the steering feel was compared to stock. No more wandering or being pushed by the wind at highway speeds. I partially believe this may also be due to the fact that i might have more than 6 degrees of caster. I actually need to get it checked out to determine where the caster is currently set. So far the wife likes it better than stock in terms of handling and suspension feel. I still need to take it through its paces to see how this suspension feels.
In terms of height, i am running 37x12.5 Patagonia MT's. I have the spare mounted on the rear and i also have a heavy zeon 10s with a 70 lb motobilt front bumper. Prior to this lift i was using the 2.5" Spacer lift from Rough country. All measurements were taken at the farthest point forward and rearward on the bottom of the OE rubicon slider
Rough country lift
Front 20 5/16
Rear 21 2/16
Metalcloak
Front 22 1/4
Rear 22 3/4
Total lift over the 2.5" Spacer kit was
Front 1 15/16
Rear 1 5/8