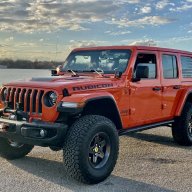 First Name

Jim
Joined

Aug 11, 2019
Threads
Messages
Reaction score

1,329
Location
Vehicle(s)

2020 JLUr
Hi Old Jeeper,

The caster was set to 6.3 earlier this year. It was 5.4 prior to adjusting. I didn't experience death wobble again until last week. We only put about 1,000 miles during that time. The weather is about the only change that stands out.

Metal Cloak recommends 6 to 6.5 degrees of caster. Other people I have spoken with recommend ~7 degrees.

I haven't checked the rear. Based on what I feel when the DW happens the problem is with the front..

Thanks for everyone's input.

Jeff
I have seen and heard dozens of recommendations on caster settings on the Jl. 5-7+. One thing that would be interesting to see is a graph of caster vs tire size and what setting works for what diameter tire. Caster actually changes where the contact patch of the tire sits vs the centerline of the spindle. 6.3 on a 33" vs 35"' or 37" tire is different. The contact patch if the 37" tire is almost a full inch further in front of the spindle vs a 33".
The further the contact patch is in front of the spindle centerline the more weight the wheel needs to lift when the tire is turned. The weight it applies is actually what forces the wheel to return after a turn.
No doubt that measurement (contact patch distance from spindle center line) has something to do with the DW. Unfortunately that's a hard measurement to get and caster is easy so that's what everyone goes with.But it's only 1/2 of the measurements that are really needed.