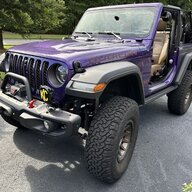 First Name

Steven
Joined

Mar 20, 2021
Messages
Reaction score

149
Location
Vehicle(s)

2021 2 Door Rubicon JL 6 Speed
Hello everyone!
Purchased a 2021 2 Door Rubicon with 6 Speed and only factory options are Sting-Gray and Mud Tires last week. Very excited for it and am planning many adventures with it. First will be Pee Wee's Crossing, Missouri's Guard Rail, Fun Run, Snake, Rubicon Ridge and Tread Lightly! Four Wheel Drive Way in Ocala (I am actually somewhat familiar with this one and I am pretty sure vey little of this trail is actually legal to drive on anymore).

I travel for work, currently in Kansas and haven't yet picked up the Jeep. It's already paid for waiting for me at the dealer and looking to get it the first chance I can. Very excited for it, always wanted one since high school. This Jeep won't be a daily driver or commuter in anyway. Used strictly for pleasure drives and road trips. I don't initially plan on much mods and will replace what I feel is needed. I know I will install red leather Katzkin and Alpine PSS-23WRA (I prefer under seat sub location). I also want to install onboard air compressor. But beyond that, it will be as needed. I assume bumpers with winch and better skid plates is the area I see the need for improvement from research. I'm not sure about lift, being the Rubicon apparently fits 35's from the factory. I will not change the wheels, really like the stock base wheels.

Hope to see you on the trails and learn from those more experience... I haven't had a off-road vehicle in while, previously had a Isuzu Trooper and various F-150's.
Last edited: