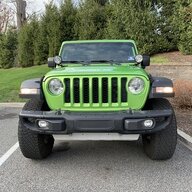 First Name

Steve
Joined

Aug 7, 2019
Threads
Messages
Reaction score

648
Location
Vehicle(s)

2018 Mojito! JLS, 2018 Firecracker JLUSS
Build Thread
Occupation

Teacher
Here's the backstory - my wife leased an '18 JLUS in May of '18, and the first time we took the doors off and put the top down I knew I had to get my own

. So, when the lease was ending in 2019 on my Go Mango '16 Dodge Charger R/T my son and I went to the dealership and wandered the lot looking for Wranglers. I really like bright colored vehicles, and started looking for Punkn' Wranglers, but decided it was too close to the Go Mango and this little 2018 Mojito! Sport caught my eye. I peeked inside, saw the crank windows, and it brought me back 30 years to when I was 17 and those simple days of cruising in my buddy's '90 YJ, or my old '85 Monte Carlo SS, or any of the cars my parents had when I was a kid.
My son and I were in agreement - this was a perfect Jeep for someone who was going to go out and play on the trails, and I have always wanted to do that! The only options are A/C, tinted soft top, 2.0T with the 8-speed, and the M220 rear. I struck a fair deal with them - after all, this was July of '19, and the 2020 MY Wranglers were going to start shipping pretty soon. So, who would want a 2-year old Jeep with crank windows!? Me, of course!
The first couple of mods were cosmetic - I removed the Wrangler Sport decals from the fender, added some JK-style Wrangler lettering to the hood as an homage to the old CJ Wrangler, and removed the bumper fairings.
I scored my next mod a few months later - a set of slightly used Mopar tubular aluminum steps. I picked these up from a fellow Forum member.
In November of 2019 I treated myself to a birthday present - a takeoff Rubicon suspension from a 2019 I found online locally that had basically just delivery miles on it. These are the 60/61 and 90/91 springs from a 4-door HT/steel bumper Rubi. This pic was taken in the garage of the guy I bought them from; I wish I had a lift!
Since it was winter and I didn't have 33's yet, there was no point to install them. I stored them away in my shed and waited for a good deal on a set of take-off wheels and tires. I was looking for white letter KO2s on the base Rubi wheels, lower mileage the better, and a budget-friendly price.
Eight months later (good things come to those who wait!), the perfect set popped up on Craigslist. These were off a 2020 with 4K miles.
After a few emails back and forth, my son and I took my wife's JLUS and cruised out to pick them up.
Last edited: