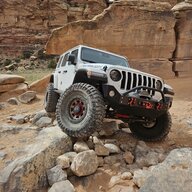 First Name

Chris
Joined

Aug 24, 2021
Messages
Reaction score

316
Location
Vehicle(s)

2021 JLUR, 2021 Sahara 4xe (wife's)
So I got my new JLUR yesterday. I love cruise and use it more than most. I've only ever had one car with an automatic transmission in my entire life.

So in all my previous manual transmission vehicles (2012 JK included), if you have the cruise set and you take it out of gear or push in the clutch, cruise control has always disengaged. Not so with a JL 6spd MT.

So I'm driving and I coming up on a slower vehicle so I put it in neutral and coast for a bit to slow down. I then put it back in gear and it just starts accelerating. I'm like WTF and hit the brakes, which disengaged cruise. So I tried it again and when it was in neutral before putting it back in gear I noticed a message in the dash cluster that said something like "Cruise will cancel if left in neutral" or something like that, there may have been a count down. So the only way to disengage cruise is to actually hit the brakes. It was very strange!!

On another note. Adaptive cruise is AWESOME!!!