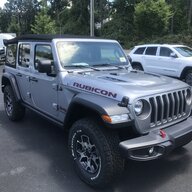 First Name

Chris
Joined

May 17, 2021
Messages
Reaction score

12
Location
Vehicle(s)

2021 Wrangler Rubicon
I just got my Manual trans JLUR yesterday (worth the 6-week wait!) and I have a question about the clutch engagement position .... where does the clutch release / engage on your JLUR?
For clarity, when I say "release / engage" I mean when does the vehicle start to move. The clutch on my new vehicle engages very late in the clutch travel... that is, very high. It's a bit awkward and I haven't been very smooth in my first few drives
I would much prefer that the clutch engage lower to the floor - doesn't have to be right off the floor, but definitely lower than 3/4 of the way up, as it is now.
I have been driving stick-shift my whole life. I actually LEARNED to drive on an old 3-on-the-column Ford truck, so I'm not new to driving a manual... this isn't a lack of experience issue.
So again, the questions are:
* Where does your clutch engage? Is this just a "feature" of the 2021 JLURs?
* Is this something I could go back to the dealer and have them work on?
Any info is appreciated.