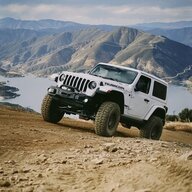 First Name

Jesse
Joined

Aug 23, 2019
Messages
Reaction score

1,004
Location
Vehicle(s)

2019 Bright White 2dr JL Rubicon 3.6
Well - I don't know what to think at the moment, but my brand new 2019, 2 door 3.6 auto JLR suffered what appears to be a defect in the transmission/transfer case area. About 11pm tonight I was driving to a taco spot about 10 minutes from my house, I previously had been idling in my driveway listening to a music track a buddy and I are working on. About 7 minutes into the drive I do a hard pull on a back road from about 10mph to 40mph, winding first and second gear of the 8 speed auto out spiritedly. I immediately smell something sweet coming through the heat vents (heat was on, AC was engaged). I pull into my destination a minute or two later and as soon as I park there's a pretty heavy stream of something flowing out of the transmission/transfer case area and a strong sweet smell inside. I can't tell if it was coolant or maybe transmission fluid? It smelled sweet but didn't look blueish/purpleish like the coolant seems to in the reservoir. I tried to get under to see where it was coming from and it was tough to tell, but was definitely dripping down from the transmission and rock trac case area.
I called roadside and had the tow truck take it to the dealer where it now sits with the key in the drop box. I'll be over there the minute they open to talk to them.
It's been on a couple mild trails in my local LA area and our friend owns a place in Green Valley Lake in San Bernardino, so it's seen some dirt and 4L use over the one free weekend I've had since I got it back from out of state purchase in AZ. I've bonked a skid plate once or twice at low speed, but there's no signs of any damage under the Jeep that I can see and nothing I've done with the vehicle thus far has been overtly rough or challenging. I've had it only 14 days - it has 1580 miles on the odometer. One other weird random tidbit: while we were idling in the driveway (about 10 minutes) I noticed the car thought it was 99 degrees outside on the Uconnect display when it was definitely 11pm and below 70. Only until I started moving did it drop down to the proper ~65 degrees. Seems like it could just be heat soaked air around the sensor, but who knows?
Hoping for the best - I took it to Glendale Dodge Chrysler Jeep and have never dealt with them or any dealer in the area before. Anyone seen this before and/or have advice for this situation? Pretty concerning with a brand new vehicle and I'm worried for the surgery it will undergo right off the bat.
Edit: After reading around a little could this be a bad heater core? Would the fluid drop down by the transmission area if that was the case?
Last edited: