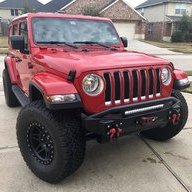 First Name

Will
Joined

May 8, 2018
Threads
Messages
Reaction score

2,602
Location
Vehicle(s)

2018 Wrangler JLU Sahara
Occupation

Gas Pipeliner
Vehicle Showcase
Did the deed yesterday and took about 8-10 hrs
now I see why detailers make what they do, I did a full exterior/interior which included cleaning upholstery, carpet and engine bay, I did a test panel first using the white LC pad but had to go to orange for the hood and roof as they were the worst and then followed up with a white and green LC pads, used the G9 for the bulk of the work and the G8 for like the grill, A frames and all the smaller stuff.
I will say for a budget friendly polishers these things rock, the 3" is a demon and the 6" is a work horse
I learned a lot this time out and had time to look at my steps last night and realized I lost a lot of time jumping between polishers and that was my fault as I swapped at each panel if needed and next time I will just doing the whole vehicle with the 6" and then do the small stuff with the 3" that way I'm not jumping back and fourth.
I also am not sure my vehicle warranted the 3 pads for correction actually 4 if you count the polish pad (orange, white, green, black) I know the black has no cut.
If a professional detailer we're to look at my job they would likely cringe but I'm very pleased with how it turned out as most of the imperfections are gone (hood and roof were the worst) my biggest setback was my head kept telling me to run the buffer fast over the areas and I kept catching myself doing it and slowed down, I'm sure I still went to fast so I need to work on my technique more but the equipment and products seem solid.
For those interested here were my steps.
Power stripped the windows using Invisible Glass Stripper with the G8 and green LC pad
Wash wheels/tires/wells (simple green and brush with Megs Hot Rims G9524)
Wash Jeep top to bottom with separate chamois that were used on wheels (2 washes)
Dry with blower
Clay bar with Megs Poly Clay including roof
Used Griots G9 and G8 with LC Smart Pads (Orange, White, Green) along with 3D One
**Was thinking white pad was fine but did a test and needed the orange for hood and roof**
**Note to self: I swapped polishers during every section if needed and lost time and figured out after that if I had used the 6" for the bulk of work and did the whole Jeep then went to the 3" for all the smaller stuff I would have saved a lot of time
After the 3D One I went back and looked for what I missed and did do some touch up, I was amazed at how bad the roof was as the pad was dirty when done as I saved the roof for last.
Wiped down entire vehicle using Megs 34 Final Insp.
Applied the 3D Poxy with a no cut black LC pad and let it sit as directed while I dressed the wheels, tires and wells using 303 Protectant and Megs Hybrid Ceramic Wax and did one initial cleaning of glass
After about an hour I wiped off the 3D Poxy and switched to clean pads and applied the Megs Hybrid Ceramic Wax G200416 and pretty much went right behind after applying and wiped off then went on to starting on interior and that took a few hours as after lightly shampooing the seat upholstery i applied 303 Protectant and just used some Mothers interior cleaner.
My final LSP if you call it that was after the exterior of going thru a modified one step correction if you call it that as I used the 3D One as it's a diminishing polish based on what pads are used I cleaned all side glass again using rain x glass cleaner and regular glass cleaner on front/back glass and applied Aquapel Glass Treatment to front and back glass then after one final walk around I applied Megs Hybrid Ceramic Detailer G200526.
Today is relax day as I'm worn out from doing this and yard work the day before, big thanks goes out to lots who advised on a lot of do's and don'ts but a real big thanks goes out to
@Chocolate Thunder
Anyway here are pics
Last edited: