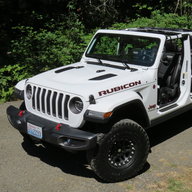 First Name

Matthew
Joined

Oct 12, 2019
Messages
Reaction score

312
Location
Vehicle(s)

2020 Wrangler Unlimited Rubicon EcoDiesel
Last updated: 7/26/2020
First, an introduction. My name is Matt. I currently live in the beautiful Pacific Northwest, but I consider Colorado my home. I'm a military brat and military veteran, so I've lived and traveled in many places. I love the mountains, and I can't imagine living anywhere where I can't be on a trail within an hour. This is where I'll share my adventures, my projects and my dreams.
I'm an avid Jeep and Harley-Davidson enthusiast. (Unfortunately, due to some medical issues, my motorcycle days are all but over.) I fell in love with Jeeps when I was just a kid when one of my cousins restored a CJ-7. Big tires, big V-8, canary yellow, no top. Heaven. I didn't own my first Jeep until I was in my late 20s though. But I've owned a YJ, two XJs, a JK, a WK2, and now my JL.
2020 JLU Wrangler Unlimited Rubicon EcoDiesel
In 2016 we bought an EcoDiesel Grand Cherokee for my wife. We're both torque junkies. She test-drove the V-6 and the Hemi but loved the grunt that the diesel provides. So did I. At the time, I was driving my JKU Rubicon. It was a great rig but driving my wife's WK2 made me start looking at really expensive (and potentially unreliable) performance modifications. I even toyed with the idea of getting a WK2 myself and modding it for overlanding.
As soon as FCA confirmed that they would be putting a diesel into the Wrangler, I dropped my JKU like a newborn giraffe. I sold it and drove an old beater while I waited for the diesels. After a years of waiting, some emissions scandals, a bunch of shenanigans from FCA and Jeep dealerships, and a global pandemic, I finally picked up my JLURD in April of 2020.
So here we are! A lifelong journey and a passion for off-roading and vehicle customization has led me here.
After owning several rock rigs in the past, there's one important lesson I've learned:
Add modifications that will get you OUT of trouble BEFORE you add modifications that will get you IN to trouble!
Big tires and suspension lifts are sexy and cool – and they're usually the first thing people do when they get a Wrangler. Yup, I'm guilty too. But after getting myself into some pretty precarious situations where I found myself wishing I had some better recovery gear, armor or other equipment, I've learned my lesson. Now, I take a much more deliberate (and less glamorous) approach, with some meticulous planning and research.
Below is a list of my planned and completed modifications. Consider it my trail map. I'll have to make some adjustments as I go based on whatever obstacles I encounter. But I'll stick to the trail and enjoy the journey! I hope you enjoy it too.
Phase 1: Creature comforts, convenience, and safety – Nearly complete
Phase 2: Garage hoist with hard top and door storage – Complete
Phase 3: Wheels – Complete
Phase 4: Electrical – Complete (main wiring harness)
Phase 5: On-board air – Complete
Phase 6: Bumpers, tire carrier and slider steps – Planned
Phase 7: Lights and Electronics – Planned
Phase 8: Steering, gears, tires and initial suspension – Planned
Phase 9: Winch and armor – Planned
Phase 10: Final suspension and driveline – Researching
Phase 11: Performance – Researching
So stay tuned as this project and adventure unfolds! Each phase has its own description below, with product links, installation photos, pros, cons, results, and what I'd do differently.
Thanks for reading!
Last edited: