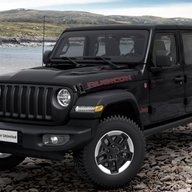 First Name

Gus
Joined

May 31, 2019
Messages
Reaction score

83
Location
Vehicle(s)

JLU Rubicon 2.0 GME
Occupation

Engineering Manager
So here's my PURELY SPECULATIVE theory on what's going on with the slack JL steering boxes:
Things expand when they're hot. The steering boxes on a JL are made from aluminium which has a higher coefficient of thermal expansion (roughly double) than steel. This means that the aluminium parts in them would get bigger than the equivalent steel parts for a given increase in temperature. They would also get bigger quicker then any adjacent steel parts - not always good if you want a close-fitting gear mechanism made out of mixed steel/aluminium components to work well across a large temperature spectrum.
If the initial design didn't adequately compensate for changes in size due to temperature then perhaps this is why early JL's had problems with the steering boxes locking up or getting hard to turn (when they got hot during extended runs in a hot engine bay?). This might also explain the YouTube videos of people's steering locking up on the freeway and the steering only becoming manageable once they slow down, as the power steering could be programmed to provide greater assistance at slower speeds.
So my guess is that part of the fix to prevent steering lock up at temperature is that the steering boxes are being purposefully set up with enough play at cold temperature to allow for everything to tighten up when it's hot. If this is the case, it seems that not everyone is getting the same amount of deliberate play dialed into the steering box at the factory and therein lies the issue............
It doesn't help that Jeep apply permanent threadlock compound (Loctite) to the factory-set steering box adjustment screw, as it strikes me that a lot of JL owner's dead-spot issues could be resolved by an 1/8 turn to this screw instead of replacing the whole box due to safety concerns related to breaking the threadlock.
Here's the equivalent fix to a JK (don't try this at home kids):
Last edited: