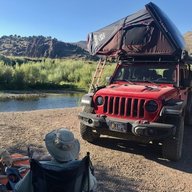 First Name

Jeff
Joined

Oct 28, 2018
Messages
Reaction score

467
Location
Vehicle(s)

2018 JLUR, 2013 VW Golf R, 2016 KTM 1290 Super Duke GT, 2015 KTM 500EXC
Vehicle Showcase
No, it's exactly what you said.

Just own it.

You got a little tweaked that someone pointed out your "function > form" thing was incorrect with 3 letters, then went on a diatribe about it only mattering to a small amount of actual owners and then doubled down on the poser comment if one doesn't see it the way you do.

I'm done here...unless you want to continue.

Your call.
I'll make one attempt to explain this to you. If you prefer SFA because you actually need the benefits of SFA, good for you. If you prefer SFA but the hardest thing you'll ever put it through is a speed bump in the Costco parking lot, you might be a poser. SFA is better for some, IFS is better for others (most others). Giving a point to the Jeep for having SFA is not walking anything back. It is merely acknowledging that for the person who pointed it out, it is apparently a plus. On other metrics, the Bronco might be better. We don't know yet. As for the original post, which had nothing to do with IFS versus SFA, my opinion, expressed in a humorous meme, is that judging vehicles like these based primarily on their looks betrays a form over function mentality which I, for one, associate with being a poser.