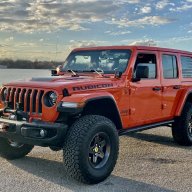 First Name

Jim
Joined

Aug 11, 2019
Messages
Reaction score

985
Location
Vehicle(s)

2020 JLUr
At the risk of drawing out the Rough Country haters I am happy to chime in here. I have the 2.5 inch RC lift with the Vertex Adjustable shocks on my 2020 Rubi. I've had them on for about 4k or 5k miles now. Zero problems. Full disclosure I did swap out the RC springs. Not that I didn't like them but I had a chance to put the Rusty's 2 inch progressive rate springs (front and rear) made by Eibach for Rustys and once I put em on i never took them off!! SO I'm running Vertex 2-3inch Ressie shocks with Rustys Performance package (2 inch springs and all the lower control arms plus the track bars) and I kept RC sway bar end links and bump stops on.

Jeep rides great on and off road. I've said this in another thread but i'll briefly review. I live in central Vermont. I live 3 miles up a dirt road. No other way to my house other than a rutted, pot holed, washboard dirt road. I have 2 vehicles. A 2020 Rubicon and 2017 Raptor. When no one is around and all the farm animals and tractors are to bed i often BOMB up my 25 mph road at 40 or 45. The Vertex shocks are usually set on mid setting #4. She runs great! Not exactly as well as the Raptor but that is kinda Raptor territory. Also tonnes of great trails to run around here. Big rocks, ruts, mud pools and some steep climbs. I have no issues with the setup.

On road - everything is 30 to 45 minutes away around here. Jeep runs great. Corners pretty flat but not a harsh ride.

Im not fan boy, just happy customer. Both Rustys and RC have great customer service. Those Vertex shocks come with 3 year warranty as well. happy to answer any questions and good luck.

couple pics!!
Are you running the ones for the 2-3" lift? I don't plan on going any bigger than a 35 and currently have no lift, I might at some point go 1-1 1/2" at the very most 2" and these look like the lengths will work out for any of the above.