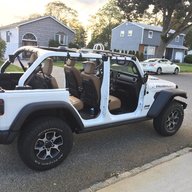 Joined

Aug 16, 2020
Messages
Reaction score

355
Location
Vehicle(s)

2012 Mahindra Thar (in India) - 2.5L Diesel, 4x4, 5 spd Manual ; 2020 JLU Rubicon (in USA) - 3.6 Gas with 8 Speed Automatic
Occupation

Family business in India and USA (dual citizen of both)
I live in an area where rust is a constant issue (5 miles way from south shore of Long Island). During the summer we get a good sea breeze that keeps the area cooler than NYC or Northern NJ. Although pleasant, it contributes to rust on cars esp the under body. Then in the winter, NYC and Long Island love to use Snow Salt on the roads. The rust is one of the reasons why vehicles in general do not last as long in this part of the country versus a California or Arizona or Texas. Our second vehicle is an 08 Altima and boy is it rusty underneath!
Kind of don't want the same issue to happen to my JLUR as I intend to keep it for as loooooong as I possibly can. I am basically split between having it taken to my local car wash every 2 or 3 months as they do a good job washing the underbody as well. I was thinking about using their "Platinum" services as that gets me a full wash, undercarriage wash, shampooed mats, a hot wax, leather interior conditioned amongst many things. Reference:
https://www.poorancarwash.com/auto-detailing-packages
My second option is to get the under body coated with Waxoyl for about $1500. We have a local guy here who will need the Jeep for about 3 days from me and then coat the under carriage plus the Engine bay. He backs the $1500 with a 5 year guarantee.
Which one sounds like a better deal? So far, I was leaning towards the regular car wash as I do not wheel much (just some dune riding twice or maybe 3 times a summer). Cost is not a big concern because the Waxoyl guy does a very good job. People from as far as PA come to get it done from him for Land Rovers, 70s Muscle, old CJs, etc. As a result he is booked months in advance and is looking at November now for appointments.