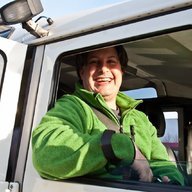 First Name

duane
Joined

Oct 11, 2019
Messages
Reaction score

206
Location
Vehicle(s)

2020 Firecracker JLU Rubicon w/a snail
Occupation

Marketing
So…apparently I've been bitten by a bug. I have an issue, an addiction. Maybe…
I'm now convinced that my future lies with a trailer for overlanding. Yup, I've given in and accepted the basic facts that I want MORE complexity in my life, that single-digit fuel economy is acceptable for this man to create his own "base camp" experience…LOL
Now, kidding aside, and regardless of your personal tastes and budgets, I figured a good old-fashioned LIST might be useful for folks.
Thus, a list of links to off-road trailer producers. By no means a definitive list, so I'm sure we can add more to the thread over time. But maybe it can be a resource, a starting point for others stepping down the trail of towing their lives behind them into the hinterland!
I have no experience with any of these personally, as I'm still very much at the start of my journey on this topic, but since I've come across all these, figured they might be either useful to some, or…be cursed for the future hours you'll now invest visiting all these sites and exploring all the options.
Please keep in mind, the prices shown here is the lowest starting point for the manufacturer and may not be for a dedicated overlanding model - those are often more expensive. BUT, almost all the trailers from these folks are towable by a JLU (4 door), many by a JL (2 door) (- but do your homework, check your own data and do your own math on this to stay safe.) And let's face it, even a non-off-road model would be capable of dirt roads and modest back country exploring.
*Edited to expand the list - 59 options listed now. Sorted by price, lowest to highest, though websites with no prices shown ended up with $0 are at at the top.
| | | | |
| --- | --- | --- | --- |
| Company | Website | Priced from | Notes |
| 3 Feathers Manufacturing | http://www.3feathersmfg.com/index | $0 | call for prices |
| Bear Trailer Sports | https://www.beartrailersports.com/off-road-trailers/ | $0 | call for prices |
| Campa USA | https://www.campausa.com/ | $0 | call for prices |
| Oregon Trailers | https://www.oregontrailer.net/home.html | $0 | call for prices |
| Crawlorado Offroad | http://www.crawloradooffroad.com/ | $0 | call for prices |
| Forest River Inc. | https://forestriverinc.com/rvs/travel-trailers/no-boundaries | $0 | call for prices |
| Opus Campers | https://www.opuscamper.us/ | $0 | call for prices |
| VorSheer | https://www.vorsheershop.com/ | $0 | call for prices |
| Black Series Campers | https://www.blackseriescamper.com/ | $0 | call for prices |
| Crux Expedition Trailers | https://www.cruxexpeditiontrailers.com/ | $0 | call for prices |
| Little Guy Trailers | https://golittleguy.com/ | $0 | call for prices |
| Overland Command | https://www.overlandcommand.com/ | $0 | call for prices |
| Overland Trailer | https://www.overlandtrailer.com/ | $1,000 | kits you build, does not include everything you need (they are clear about this) |
| Compact Camping Concepts | https://www.compactcampingconcepts.com/ | $1,479 | basically, you buy their kit and build it |
| WeeRoll | https://www.weeroll.com/ | $3,595 | |
| Hiker Campers | https://www.hikertrailers.com/hikers | $3,795 | offroad models from 7995 |
| TenTrax | https://www.tentrax.com/ | $3,995 | |
| Vintage Trailer Works | https://vintagetrailerworksinc.com/ | $5,295 | |
| New Wave Teardrops | https://newwaveteardrop.com/ | $5,408 | |
| Ruger Trailers | https://www.rugertrailers.com/ | $5,497 | |
| TC Teardrops | https://www.tcteardrops.com/ | $5,600 | |
| Valiant Expedition Trailers | https://valiantexp.com/ | $5,795 | |
| Manley ORV | http://manleyorv.com/ | $5,995 | |
| TetonX | https://tetonx.com/ | $5,995 | |
| Sherpa Trailers | http://sherpatrailers.com/ | $6,000 | |
| To Extreme | https://store.to-extreme.com/collections/trailers | $6,239 | |
| Cascadia Tents | https://cascadiatents.com/trailers.html | $6,800 | |
| FreeSpirit Recreation | https://gofsr.com/collections/fsr-trailers | $6,895 | |
| Highland Expedition Outfitters | https://heotrailers.com/ | $7,500 | |
| Smittybilt | https://www.smittybilt.com/ScoutTrailerKit_landing | $7,500 | Price depends on supplier; Kit, requires assembly, only ships to locations with loading docks |
| Timber Leaf Trailers | https://timberleaftrailers.com/ | $7,800 | |
| Tuff Stuff 4X4 | https://tuffstuff4x4.com/collections/trailers | $7,892 | |
| VMI Offroad | http://www.vmioffroad.com/ | $7,995 | |
| Rock Box Offroad | http://rockboxoffroad.com/ | $8,000 | |
| CARP Expedition | https://carpexpedition.com/ | $8,500 | |
| Moab AZ | https://moabaz.com/ | $8,800 | |
| Hive Campers | https://www.hivecampers.com/ | $8,990 | |
| Taxa Outdoors | https://taxaoutdoors.com/ | $9,799 | |
| Trail Marker Trailers | https://www.trailmarkeroutdoors.com/ | $11,000 | |
| NutHouse Industries | https://nuthouseindustries.com/ | $11,592 | |
| Schutt Engineering | http://www.schuttindustries.com/ | $12,495 | |
| SoCal TearDrops | https://www.socalteardrops.com/page.php?p=30 | $13,225 | |
| Teardrops NW | https://www.teardropsnw.com/ | $13,250 | |
| Escapade Campers | https://www.escapadecampers.com/ | $13,500 | |
| Vector Offroad | https://vectoroffroad.com/collections/roof-top-tents/products/vector-armadillo | $13,500 | |
| Colorado Trailers | https://www.coloradotrailersinc.com/trailers-off-road | $13,577 | |
| Colorado Teardrop Campers | https://coloradoteardropcamper.com/ | $13,900 | |
| Drifter Trailers | https://driftertrailers.com/ | $14,350 | |
| Bean Trailers | https://beantrailer.com/ | $15,950 | |
| Turtleback Trailers | https://turtlebacktrailers.com/ | $16,995 | |
| Escapod Trailers | https://escapod.us/ | $16,995 | |
| High Altitude Trailers | https://highaltitudetrailer.com | $18,400 | |
| Conqueror Offroad Campers | https://conqueror4x4usa.com/products/uev-310-extreme/ | $20,600 | |
| Boreas Campers | https://boreascampers.com/ | $20,900 | |
| AntiShanty Trailers | https://antishanty.com/ | $26,385 | |
| Off Grid Trailers | https://offgridtrailers.com/ | $31,900 | |
| Patriot Trailers | https://www.patriotcampers.com.au/ | $32,990 | |
| Blue Ridge Expedition Trailers | https://www.brxtrailers.com/ | $36,080 | |
| Airstream | https://www.airstream.com/travel-trailers/basecamp/ | $38,400 | |
Jumping Jack Trailers
- $6995 and up
Last edited: