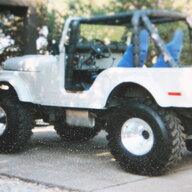 First Name

Brad
Joined

Oct 8, 2018
Messages
Reaction score

4,217
Location
Vehicle(s)

2019 Jeep JL Sport S, 03 Toyota 4Runner, Infiniti G37, Toyota T100 (Retired 74 CJ-5, 80 CJ-7)
Would be nice to have a concise list of aftermarket wheels that have the same wheel bore as the factory wheels (71.5mm) to keep the hubcentric fit. If you know of any others just add to the thread as it saves the hassle of trying to use hub adapters and chasing down vibration issues that may be related to wheels not being hubcentric.
@Karl_in_Chicago
posted this great link that describes why hubcentric wheels are worth considering vs. those that aren't hubcentric
https://www.quadratec.com/c/blog/difference-between-hub-centric-and-lug-centric-wheels
(17" sets) And 1 20" model thats' 10" wide for very aggressive fit.
https://www.americanracing.com/wheel/12967/ax194-ravine
https://www.americanracing.com/wheel/12968/ax194-ravine
Only a couple that have the 71.5mm bore
https://www.americanracing.com/wheel/50867/ar933
https://www.americanracing.com/wheel/50866/ar933
Only for the 18s
https://www.americanracing.com/wheel/27919/ar969-ansen-off-road
https://www.quadratec.com/p/quadrat...jeep-wrangler-jk-and-grand-cherokee-wj-wk-wk2
https://www.quadratec.com/p/quadratec/hardrock-wheel-gun-metal-gray-machined-accents-jeep-wrangler-jk-and-grand
https://www.quadratec.com/products/92615_24X5_PG.htm
https://www.quadratec.com/p/quadratec/hardrock-wheel-smoked-bronze-machined-accents-jeep-wrangler-jk-and-grand

https://www.quadratec.com/p/tactik/t-742-series-simulated-beadlock-alloy-wheel-matte-black-17-x-85-5-back-space-07-17-jeep
https://www.quadratec.com/p/tactik/t-742-series-matte-black-simulated-beadlock-alloy-wheel-matte-gunmetal-17-x-85-5-back-space
https://www.quadratec.com/p/quadratec/41-wheel-smoke-bronze-jeep-wrangler-jk-jl-and-grand-cherokee-wj-wk-wk2
https://www.quadratec.com/p/quadratec/41-wheel-gun-metal-gray-jeep-wrangler-jk-jl-and-grand-cherokee-wj-wk-wk2
https://www.quadratec.com/p/quadratec/moab-wheel-satin-black-jeep-wrangler-jk-jl-and-grand-cherokee-wj-wk-wk2
https://www.quadratec.com/p/quadratec/moab-wheel-gun-metal-gray-jeep-wrangler-jk-jl-and-grand-cherokee-wj-wk-wk2
https://www.quadratec.com/p/quadratec/moab-wheel-silver-jeep-wrangler-jk-jl-and-grand-cherokee-wj-wk-wk2
https://www.quadratec.com/p/mopar/functional-bead-lock-wheel-07-18-jeep-wrangler-jk-jl
https://www.quadratec.com/p/quadratec/baja-xtreme-wheel-gun-metal-gray-jeep-wrangler-jk-and-grand-cherokee-wj-wk
https://www.quadratec.com/p/quadratec/baja-xtreme-wheel-silver-jeep-wrangler-jk-and-grand-cherokee-wj-wk-wk2
https://www.quadratec.com/p/tactik/...l-matte-black-17-x-85-5-back-space-07-17-jeep
https://www.quadratec.com/p/tactik/...ck-17-x-9-5-back-space-07-17-jeep-wrangler-jk
https://www.quadratec.com/p/tactik/...-face-17-x-9-5-back-space-07-17-jeep-wrangler
https://www.quadratec.com/p/quadrat...p-wrangler-jk-jl-and-grand-cherokee-wj-wk-wk2
https://www.extremeterrain.com/mammoth-boulder-charcoal-17-9-J100615.html
https://www.extremeterrain.com/mammoth-boulder-bl-char-17-9-J100627.html
https://www.extremeterrain.com/mammoth-mammoth-boulder-beadlock-blk-wheel-jeep.html
https://www.extremeterrain.com/mammoth-type-88-17-8-jk-j100639.html
https://www.extremeterrain.com/mammoth-general-matte-black-17x9-0717.html
https://www.extremeterrain.com/mammoth-8-steel-black-wheel-family.html
https://www.extremeterrain.com/mammoth-d-window-black-wheel-family.html
https://www.kmcwheels.com/wheel/50934/xd140-recon
https://www.kmcwheels.com/wheel/50932/xd139-portal
https://www.kmcwheels.com/wheel/29342/xd129-holeshot
https://www.aev-conversions.com/product/jl-pintler-wheel/
https://www.quadratec.com/p/mopar/gear-cast-aluminim-wheel-jeep-wrangler-jk-jl
https://www.quadratec.com/p/mopar/satin-black-5-spoke-wheel
https://www.quadratec.com/p/mopar/silver-cast-aluminum-wheel-jeep-wrangler-jk-jl
https://www.4wheelparts.com/p/metho...ern_PQMS=5+on+5&Wheel+Diameter_PQMS=17+Inches
https://www.4wheelparts.com/p/metho...ern_PQMS=5+on+5&Wheel+Diameter_PQMS=17+Inches
https://www.4wheelparts.com/p/metho...ern_PQMS=5+on+5&Wheel+Diameter_PQMS=17+Inches
https://www.4wheelparts.com/p/metho...ern_PQMS=5+on+5&Wheel+Diameter_PQMS=17+Inches
https://www.4wheelparts.com/p/metho...ern_PQMS=5+on+5&Wheel+Diameter_PQMS=17+Inches
https://www.4wheelparts.com/p/metho...ern_PQMS=5+on+5&Wheel+Diameter_PQMS=17+Inches
https://www.4wheelparts.com/p/metho...ern_PQMS=5+on+5&Wheel+Diameter_PQMS=17+Inches
https://www.4wheelparts.com/p/metho...ern_PQMS=5+on+5&Wheel+Diameter_PQMS=17+Inches
https://www.4wheelparts.com/p/metho...ern_PQMS=5+on+5&Wheel+Diameter_PQMS=17+Inches
https://www.4wheelparts.com/p/metho...ern_PQMS=5+on+5&Wheel+Diameter_PQMS=17+Inches
https://www.quadratec.com/products/92604_0421_07.htm
https://www.blackrhinowheels.com/off-road-wheels-rims-armory.php#wheel-specs
https://www.stealthcustomseries.com/products/jeep
http://iconvehicledynamics.com/shop/iconalloys-wheels/1313-17-alpha-wheel-bronze-finish.html
http://iconvehicledynamics.com/shop/iconalloys-wheels/1354-compression-17-bronze-finish.html
http://iconvehicledynamics.com/shop/iconalloys-wheels/1272-rebound-17-wheel-bronze-finish.html
https://fifteen52.com/products/turbomac-hd-classic-cg?variant=14356976664642
https://fifteen52.com/collections/c...averse-hd-block-bronze?variant=15113775087682
http://www.fueloffroad.com/wheel/12021/fuel-1-piece-wheels-shok-d666/
http://www.fueloffroad.com/wheel/12871/fuel-1-piece-wheels-menace-d684/?finishID=4076&lugs=5
https://www.extremeterrain.com/edge...te-black-wheel-17x9-1790rf5cmatblk125127.html
https://ruggedridge.com/jeep-accessories/wheels/aftermarket-wheels/jesse-spade-wheels.html
https://www.visionwheel.com/wheel/8787/111-nemesis/?finishID=4
https://www.kmcwheels.com/product/wheels/km544/?attribute_pa_finish=satin-black-with-gray-tint
https://www.kmcwheels.com/product/wheels/xd143-rg3/?attribute_pa_finish=satin-black
https://www.kmcwheels.com/product/wheels/km235-grenade-crawl/?attribute_pa_finish=machined
https://www.kmcwheels.com/product/wheels/km542-impact/?attribute_pa_finish=satin-black-machined
https://www.kmcwheels.com/product/wheels/km233-hex/?attribute_pa_finish=machined
Last edited: