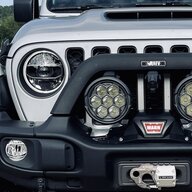 Joined

Jun 4, 2021
Messages
Reaction score

371
Location
Vehicle(s)

2018 Grand Cherokee, 2006 F-250, 1998 wrangler
I just spent the night putting the AEV lift on my diesel Rubicon and I can confirm that you have to cut that bolt shorter to get it out. Fortunately I saved the bolts from the plastic bumper take-off and there was one in there to use as a replacement. The instructions say you might have to lower the exhaust to get it out, but I just couldn't see a way to get my hand in there to release the exhaust to get to to drop down. It literally was just hitting the top of the heat shield but it was enough to make it jam up.

Everything on the passenger side of the Jeep was a pain in the ass.

I ended up choosing the AEV lift mostly because I have a 200# winch and bumper on the front and the stock suspension was sagging almost 2". AEV is designed for both the diesel and the heavy steel bumpers. That wasn't just marketing, my Jeep now sits level and I regained the upward travel I lost with the bumper swap. I still have a mess of bolts to torque before I can take it for a test drive, let's hope it's as good as people say.
How did you reinstall the bolt, did you go in from the hole on the outside of the frame?
I'm still up in the air between AEV, mopar, and teraflex.
Im still waiting on my Jeep to be built but it has the steel bumper group and I plan on running a winch. Also plan on having a rhino rack and a 37" spare tire on the back so the aev springs are probably better in my case. What to you think about the AEV drop brackets, are they built well and do you think they can take a hit?
Also let us know how the ride is when you get everything together, I'm interested in how the shocks perform.