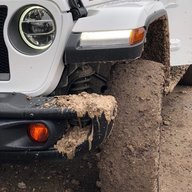 First Name

David
Joined

Jan 29, 2019
Threads
Messages
Reaction score

3,461
Location
Vehicle(s)

2020 JLUR 3.6L
Ok, so the "Badge of Honor" trails are not my thing. I like to drive "trails" that take me to places that I would not go in a sedan and I want those trails to have something interesting at the end. Maybe it's a great alpine fishing lake. Maybe it's a fantastic hiking trailhead. Maybe it's a great birding spot. The trail, for me, gets me TO my destination to do something— It's not THE destination in and of itself.
The Badge of Honor trails, by definition, are challenging and the program is designed for those folks who want to challenge themselves, their driving skills, and their vehicle on an off-road adventure. It's a GREAT program for folks so inclined. But I want my challenges to be on foot and I only want my Jeep to be able to take me to the starting line.
Consider this:
These old legs still love to hike. But these old legs are not up for the challenge of a 5-mile walk up a mountain TO a trailhead followed by a 10-mile out-and-back hiking trail followed by 5 miles back down to the vehicle. Don't want to do 20-plus miles..... that's where the Jeep comes in for me..... it will take me, without a care or trouble, the five miles up the mountain to the trailhead and let me do the 10-mile round trip hiking trail to that amazing glacier-fed waterfall that I would never get to see otherwise.
For others, it might be that overlanding trip through the desert with your 8-year old daughter and 9-year old son to an amazing geologic formation or earthquake fault. They have read all about how that feature was formed, they have studied it, and now, in your Jeep you get a chance to get them there and see it in person. Family Win!
For yet others, it might be the ability to get to that amazing high alpine fishing lake. You really have zero chance to fish that lake if you had to try to hike up from the paved road. But your Jeep got you there.
For still more, it might be about driving across miles of dirt path through the grasslands (or beach,etc) to that point where that particular migratory bird makes its summer home. Pull out your binoculars or spotting scope and add it to your life list.
You get the idea.
I propose that we start this crowdsourced thread — "Lifestyle Trails/Trails for Pusses" —
the rule is that you must take your Jeep and you must travel on some kind of dirt/sand/gravel to get there — no special skills or mods needed - just a Jeep and a place to go to in order to do something you love.
If you take your jeep and happen to be driving behind 3 Subaru's, that's ok. Remember, this is Trails for Pusses. This isn't about climbing high rock ledges or navigating death defying mud holes. Just great easy trails that get you to somewhere that you normally would not have been able to get to in your Honda 2WD sedan. Share your experience so others of similar minds might be able to get there too.
Make sense?
Each post should:
1) List the State. AT THE TOP SO FOLKS SEARCHING THE THREAD CAN EASILY SEE IT
2) List the Lifestyle Trail/Trail For Pusses, where it is, and what the attraction is at the end or along the way.
3) A picture or two paints a thousand words.
4) remember: must include driving OFF of the pavement to get there.
I'll start..... see post below, for a good format that will help folks searching the thread in the future.....
EDIT:
Thanks to
@mvandergrift
there is a handy google spreadsheet —- see post #117 on page 8 of this thread — of all the crowdsourced lifestyle trails......
Last edited: