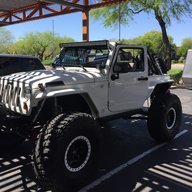 Joined

Apr 3, 2017
Messages
Reaction score

982
Location
Vehicle(s)

'21 JLUR 392 XR, '21 JTR, '21 JLR, '09 JK
I didn't say your 4 door Jeep isn't a decent vehicle on the highway. My 2 door is a decent vehicle on the highway too. My point was that it really makes little difference which of the two models you choose since both JLs will be okay for highway driving. Neither would be the best choice in a vehicle for a person who drives on the highway, though.

Put another way, the knife you take with you for fishing would probably work okay if you took it with you hunting, but it's ideal to have a more purpose built knife for hunting. In that vein, I'd hate to give up my Yukon for 80 mph highway cruising, just as I'd hate to give up my Wrangler for top down/doors off around town/beach fun. Two different knives for different endeavors, but whey're still both knives.

I may be wrong, but it my 47 years I've owned all sorts of vehicles and some are better at one thing than they are the other. A Wrangler, no matter the door count, isn't the best grand tourer.
No worries, I agree with what you are saying. I was just trying to gauge any improvement as there is a noticeable difference in the JK from 2 door to 4 door on the highway. I am not trying to pick the best highway vehicle.