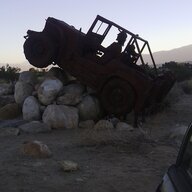 Joined

Sep 21, 2018
Messages
Reaction score

143
Location
Vehicle(s)

1992 Suzuki Sidekick
I worked in Prison for almost 30 years. Everything from minimum security to Super Max and was a Shift commander for 20 years. What I say is true. Sex offenders in general are very quiet and stay to themselves. When you are a convict and work in prison and make .72 cents a day and someone steals your food or TV, that's what starts fights, and get people stabbed.

The last prison I worked at 60% of the population was sex offenders. They would sit on the yard and talk to each other about their crimes like it was no big deal. Prison is not like the movies where Bubba is going to be their bunkie. There are not enough Bubbas to make that happen and Sex offenders and still men and still fight like men.
Here in SoCal it is the pedophiles and sex offenders that now outnumber Gen Pop and run the yard. I was shocked but unfortunately my idiot brother in law in in there now and that is what he told me. Old School gang member on his second stint for stupidity.
Very sad for the owner of the LEDs and now days even if you catch the person they will most likely sue you because they were injured while stealing your property. Here in Cali they don't really prosecute for larceny. Heck the DA in San Francisco just said he would not prosecute anyone for urinating in public. In LA they do everything in the streets and the aroma is bad. Good thing we just had some rain to wash the sidewalks