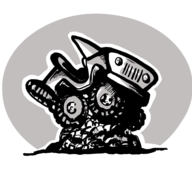 Well-Known Member
Rock Sponsor (Level 1)
Joined

Apr 18, 2017
Messages
Reaction score

6,955
Location
Website
Vehicle(s)

2018 Jeep Wrangler Sport S, 2017 Chevy Tahoe, 2005 Jeep Liberty
Ok I ran these numbers
I know you are saying that the sales tax is included. I don't think it is though. I will explain. I believe you are in Pennsylvania. The sales tax rate there if I am correct is 6% and you pay the tax on the lease payment or depreciation each month in Pennsylvania.

I used your 48 month lease example with a payment of $440 and down money of $440.

If I use the parameters you provided I am coming up with a monthly payment of $433.41 and that does not include taxes or any fees. The drive offs in this case would be $873.41 which includes the $440 down and the first payment. If I back into a monthly payment of $440 then there is room in this lease for a total of $316 in fees. That seems way too low. But let's go onto the assumption that the payment is $440 with the fees. With your 6% sales tax the monthly payment would be $466.40.

I am just doing basic math using a lease calculator here. I know you're going to come back and say the dealer said that was inclusive of everything. But if so then some number you gave in your parameters is not correct.

As for your parameters it looks like you are getting about 4 1/2% under MSRP for a sales price. That is not terrible but not great either. The money factor of .00200 equates to an interest rate of 4.8%. I don't know anything about your credit but if you are top-tier I would say that that is sort of OK but definitely not great.

Take everything here with a grain of salt because I'm just going by what you provided and I don't know your specific situation.

With a residual of 67% after four years I am guessing that it will be a toss up as to whether it would make sense to buy this vehicle at the end of your lease. You might be a little upside down. Maybe not. But since a 36 month lease with 10,000 miles on a Rubicon is said to have a residual of 70%, that 67% for four years seems high.
Pennsylvania also has a 3% lease fee that basically works like a tax, so it is more like 9% taxes/fees.