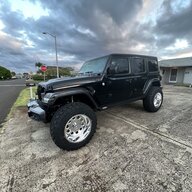 First Name

Kaimana
Joined

Nov 15, 2018
Messages
Reaction score

140
Location
Vehicle(s)

2018 JL Sahara
And the saga begins...

Dropped my Jeep off this morning around 9am for 930 service appointment. Got a call around 230 this afternoon from the service advisor. He claimed my jeep didn't have LSD "no clutch packs in there"... He said the tech told him it was due to my mud terrain tires being cupped and they swapped stock wheels and tires on the Jeep and the noise was 100% gone.

I told him to leave the stock tires on there and I'd be down to the dealer in about 1/2 hour. Upon arrival I showed him my build sheet m220 rear axle and anti spin rear diff. The tech "stood corrected and made a mistake" is what I was told.

I jumped in got less than 1 block from the dealer and clunk clunk clunk...circled right back, told the service advisor to grab the tech he needed to go for a ride along. Again less than a block from the dealer the tech looks at me and says "it isn't that is it?" So now the tech claims since he is aware of which noise to listen for he is confident he can get it sorted out.

He started to say "last time I heard a noise like that it was a body mou..." I cut him off and said it's not a body mount bolt, you need to pull the diff cover. I pointed him to this thread and explained the black fluid and metal people are finding. Along with the need for a lot of axle replacements to which he replied "well if it is the axle they are on back-order". So that tells me he already researched before trying to pawn off the "tire issue" or they've had other people come through with this issue already.

The Jeep stayed overnight and they said they would call with an update tomorrow. I will post here when I receive that update. To be continued...
Such a shitty situation.
I'm still here at my dealer 3 hours later.
Gonna drop some F-Bombs soon.