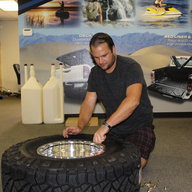 First Name

Ethan
Joined

Oct 8, 2018
Messages
Reaction score

18
Location
Website
Vehicle(s)

2018 JL Sport S Wrangler
Occupation

Automotive Design Engineer
Vehicle Showcase
Wired up my KC Rack Lights.
This is how I routed the wiring through the hard top and to the battery.
1. Drill hole in hardtop to match (or 1/8th smaller ) than the wire conduit.
2. Conduit / tape wiring up to the hole.
3. Silicon conduit and wiring at the hole.
4. Pull 10 - 12 inches of wiring through. (cut if running disconnects for roof removal),
4.a. Remove foot plate, lower b pillar plastic trim, upper seat belt and grab handle, then remove upper trim and speaker cover / crossover trim.
5. Measure out the wining length needed to run to the back wheel arch wiring rubber inlet and then back up to battery. Be Generous so you have enough left over to cut some off. There is a Negative spike at the rear of the right hand side foot skid once removed. Either terminate negative here / or run full length to the battery.
6. Run the wires as shown to avoid seat belt interference.
7. run wires to rear wheel arch and exit through the existing rubber wiring connector.
8. Run wires above chassis and back up to battery.
9. If you wish to run disconnects for the top removal, I used these,
https://www.amazon.com/gp/product/B00NEWBGR2/ref=oh_aui_detailpage_o01_s00?ie=UTF8&psc=1
Make sure you leave the supply battery positive as the protected wire when disconnected.
Use all other common sense for the wiring, including the use of wiring relays, fuses, etc. This is really just a quick help for those looking for a neat way to hide the wires from the roof into the cab.
Hint, you can run the wires to the (passenger/rhs) outside of the battery and up. Much easier to run if the inner fender flare is removed.
I will do a separate write up / youtube video on how to do a $20 budget wireless controller that can even be activated with your factory fey fob.