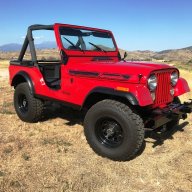 First Name

Jeff
Joined

Feb 6, 2021
Messages
Reaction score

221
Location
Vehicle(s)

'21 2-Door JL Sport, '80 CJ-5, former '99 TJ
Vehicle Showcase
So....this alarm was offered to me at time of sale, and will be activated in my new JL tomorrow. Although I have seen/heard a lot of bad press about alarms/trackers offered by the dealership, I decided to proceed anyway because:

-I don't owe anything on my new Wrangler, so not concerned about the dealer using it to repossess.
-They pretty much offered it to me at cost, which is far less than any third party shop would charge.
-IMHO, any soft top vehicle needs some sort of security system, at least here in SoCal.
-If I experience any electrical problems related to Karr's alarm installation, it's on them and the dealer. If it was installed by another shop, the dealer would obviously use that as an excuse to not cover electrical work in general, and would likely claim that I voided the warranty. In this case, the alarm was sold/forced on me by the dealer, so they are liable during the warranty period.

The last point is the most pertinent, especially because most dealerships will try to find any excuse to not cover electrical work. Just curious what you all have experienced out in the wild, and if anyone else is using this alarm system. Many thanks.