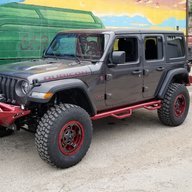 First Name

Mitch
Joined

Mar 8, 2018
Threads
Messages
Reaction score

618
Location
Vehicle(s)

2018 Granite Wrangler Rubicon JLU; 2020 Mercedes GLB 250; 2013 Red Ford F-150 4x4
Build Thread
Occupation

Interventional Cardiology
Anything that they would add to your monthly payment WILLINGLY, to me, would suggest that they were doing it for the money they were making, not for the benefit it adds to your Jeep. When I bought my first new car back when I was 22, they told me I could get this one, specific mode, because it would keep my payment UNDER $250/month and that was the MOST I could get financed for. Fast forward to the finance office and the manager practically forced (okay, I was young, female and ignorant back then, don't judge! LOL) me to buy the extended warranty that took my payment OVER $270 and he told me that he could get the higher amount approved because I was 'protecting the finance company's best interest'. When I told him that was going to make my budget really tight and I wanted to skip it, he said he couldn't sell me the car without it.

Obviously, this is not the same situation here, but since then I have always been skeptical of any automobile extended warranty mainly because the one I had didn't cover any of the issues I had with the car. Any time something went wrong and I tried to use it, it miraculously wasn't covered for some reason or another. It's typically the same with any extended warranty you buy on anything. They count on you NOT reading the contract first, allowing the cancellation period to lapse and then when you try to make a claim that's when they tell you you're not covered because of an exclusion or that the issue is considered 'wear and tear'.

Insurance(warranties) is like legalized gambling. How much are you willing to gamble to see if you have X problem, that could potentially cost Y to fix? If you take that same cost for the warranty and put it into a savings account (and NOT spend it on anything other than car repairs so you are always 'covered') and then never have an issue that you would have used that warranty for, how much are you ahead? And then add in all the interest you'd NOT be paying on top of it... it's the same with health care insurance and why catastrophic policies have been issued. People couldn't afford the 'full service' plans, but they were too afraid to go completely without, so they paid the least amount they could to get a policy that only covered them if they were on their death bed.

As you can see, my issues are mainly monetary: value for cost. As for HOW they would fix any issues, that would be where you'd have to read the specific policy they gave you. I'm sure there are fifty companies selling similar warranties through dealers all over the US, and there are probably at least 25 different remedies they all claim to use. Fixes likely depend on if you bought their 'special discount' plan or the 'premium'. (Did they offer you different options based on price? Seems like every dealer has a smorgasbord menu for warranties in the finance office.) But again, without reading the fine print it's hard for us to speculate. Could their love bug fix be a clay detail? Could it be a cut/mop job? Do they expect you to apply some coating and come back to the dealer to have it reapplied on a schedule that no one ever keeps up with (ANOTHER way they cheat you out of coverage, require YOU to do specific maintenance to keep your coverage intact.)? Or are you required to bring the vehicle in for 'visual inspections' for the same reasons? What happens to this warranty if you move? Does your benefit transfer to another dealer? Another city in the same state? Another state entirely? (If there is this possibility in your life, obviously.)

It really boils down to what the paperwork says, keeping in mind that if it does require action on your side to maintain, that you are WILLING and ABLE to follow through. Once you miss one maintenance visit, inspection or whatever, all the money you've paid for that 'warranty' is gone...

If they didn't give you a contract full of LOTS of fine print outlining their exact coverage and your responsibilities, but told you you'd get a copy of the policy 'in the mail within the next XX days' (and the cancellation period expires in 48-72 hours), that would raise another red flag. How can you evaluate a policy if you don't have the complete terms and conditions available before you lose the ability to terminate?

Paranoid about your paint and bug damage? Plan to wash your Jeep as needed. Don't allow bug guts to sit and eat up your paint. Make sure you keep up with waxing and clay bar. Worried about your leather? Cover the seats with something BEFORE you do anything to them that might screw them up. Going to Home Depot? Cover with an old blanket. Bringing the dog? Make sure you cover the back seat with something big enough that will also protect from wet paws or drool. (LOL) Wash the seats and condition them, on a recommended schedule, with GOOD products (Lexol, my favorite:

https://www.amazon.com/Lexol-E30112...pons&keywords=lexol+leather+conditioner&psc=1

). Maintain your car like you would any other $30, $40, $50 thousand dollar investment you'd make. You'll get out of it what you put into it. There are lots of people here who can tell you their secrets for washing/waxing/maintaining the appearance of their Jeeps. There are also tons of videos and websites for the DIY detailer. The Chemical Guys is the first one that comes to mind.

People are probably tired of listening to me or have already skipped the end of this post, so I will shut up now. Bottom line, READ every detail and make sure you understand it. Ask questions if necessary. Your gut will tell you if it's a legitimate offer. And if it's not, cancel BEFORE it's too late.
While I am coming in on the tail-end of this discussion, please excuse me if I'm a bit "off target" on this discussion. I also purchased an extended warranty...HOWEVER...let me explain my rationale for it...and NORMALLY...I would never purchase an extended warranty. My rationale for purchasing the extended warranty is because of the new 8-speed transmission. I generally won't purchase a first year model vehicle...as the JL is...until after it has been around for more than a year...but my lack of patience and the excitement over a new Jeep got the best of me
. IMO, I think it takes a year or two to get all of the kinks worked out of a new model and if you read Consumer Reports at all, this is what they also say. So...again, because this is the first year for the JL, I bought the extended warranty mainly for the transmission. We all know that the 3.6 Pentastar motor is a tried and proven, reliable and dependable motor as it has been around for some time now so I have no issues with that. But this is the first year that an 8-speed auto transmission has been paired with that motor so I'm skeptical...at the moment...that it is going to be 100% trouble free. I can only hope that it will be a trouble free component but paying the extra money for the security of knowing that it will be fixed should something come up when it is out of warranty is comforting to me. The price of the extended warranty is also negotiable...at least it was for me and I was pleased with the result and experience that I have had so far.
And yes...I fully agree, treat your vehicle like you would any other $30k, $40k or $50k car by changing the fluids, washing it and doing regular maintenance and it will most likely be fine. I'm a freak when it comes to all of that...in fact, my ex-wife used to make fun of me because of how well I take care of my vehicles, be it a car, motorcycle, boat or plane...she used to say that I took care of those things better than I took care of her

. Oh well.