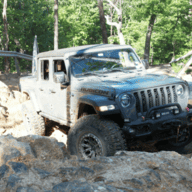 First Name

Jeff
Joined

Dec 8, 2017
Messages
Reaction score

1,023
Location
Vehicle(s)

2020 Gladiator Rubicon, 2018 JLUR
Vehicle Showcase
Just went through the order process at my local deal, and let me stress to you guys SHOP AROUND! I had one dealer tell me it was $1000 non refundable, another said $2000 refundable, and finally the one I ordered from it was just a tiny $100 fully refundable.
NOTE THE ONLY WAY YOU GET THOSE FANCY 4 AUX SWITCHES IS WITH THE TOW PACKAGE!
Ordered a JLUR so all my views here are Rubi only, I did not look at Sport or Sahara.
The available options right now are limited for the Rubicon. I will post details later on what exactly the order form looked like but here is what it was off the top of my head.
DRIVELINE (first page)
23R (Manual)
24R (8 speed auto)
ENGINE
3.6L Only (as expected since I got a manual as outlined by the release details)
2.0L not even on the screen (I assume this is because on the previous screen I had already chosen manual)
WHEELS
Rubi had one option for the 17x7.5 black with a polished lip type rim (stock are also black and polished just a different design.
**Both are 17x7.5 so no matter what rim you choose, you will likely change them anyways....not that you cant mount a 12.5 tire on a 7.5 rim...but yea discussion for another thread that has been beat dead many years over lol
INTERIOR
Leather Seats
Leather Seats (two tone interior black/heritage tan)
Premium cloth seats
MOPAR mats
Hard top headliner
Smokers group
Cold Weather Group
ELECTRONICS
Electronics Infotainment Group (this is the full blow package...there is no technology group that gets you the 8.4" screen, you have to go the full package...Jeep knows how to make money on options LOL)
**The ONLY electronic package for the Rubi to get the 8" screen is the full blown Infotainment group package, there is no 8.4" connectivity upgrade as speculated in other posts (Rubi comes STANDARD with the 7"). This package includes the Alpine upgrade, woofer, amp, etc. I am guessing this is easily a $2000+ upgrade package.
LIGHTING
LED group is optional, nothing else
NO other options for lighting... (NOTE the Safety Group did include LED Tail Lights only though)
**Rubi came stock with the interior LEDs...I am not sure if thats standard on all or not so others may have various other package options
EXTERIOR
Tow package is optional (includes the 4 Aux power switches up front)
Steel Bumper Group is optional (I assume this is the removable end cap option bumper because stock Rubicon equipment was listed as injection molded bumpers)
Three Piece top (with

or without color matched paint)
Dual top
Premium sun rider soft top
Paint matched fenders

BODY PAINT
Firecracker Red
Silver
Granite
White
Black
**The next two were under speculation around the forums about not being available but the dealer said they were available for selection
Ocean Blue (was offered)
Punk'n (was offered)
NOT OFFERED (dealer said not expected until 2019 model year) Hella Yella
This was off the top of my head so I will be sure to scan and post the full details when I get home from work!