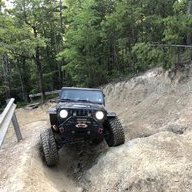 First Name

Cody
Joined

Apr 15, 2018
Messages
Reaction score

280
Location
Website
Vehicle(s)

2018 JLUR
Vehicle Showcase
8/8/2019 Update pick and quick build list.
Use the code "Crossthread" on any links for a discount!
2018 JLUR
DV8 FS-16 front bumper
4.5" Rock Krawler X-Factor Lift
https://outlaw-offroad.com/rock-krawler-jl-jlu-4-5-x-factor-system/
Ultimate Dana 60s (5.38 Gearing)
Radflo Shocks
40" Mickey Thompson Baja Boss on 17" KMC Beadlocks.
Artec Skids (steel)
https://outlaw-offroad.com/artec-industries-jl-full-bellypan-4-door-3-6l-steel/
Artec Fender supports
https://outlaw-offroad.com/artec-industries-jl-front-fender-chop-kit-brackets/
Artec Front Inner Fenders
https://outlaw-offroad.com/artec-industries-jl-front-inner-fenders-solid/
Artec Rear inner Fenders
https://outlaw-offroad.com/artec-industries-jl-rear-inner-fenders/
Steersmarts Tie rod (JK version for UD60)
https://outlaw-offroad.com/copy-of-...r-tie-rod-assembly-jl-jt-2018-rubicon-length/
Steersmarts Drag Link
https://outlaw-offroad.com/78078001-steersmarts-yeti-xd-jeep-wrangler-jl-jt-draglink-top-mount/
Steersmarts Track Bar
https://outlaw-offroad.com/75040001-steersmarts-yeti-xd-jl-jt-adjustable-front-track-bar/
Rock Hard 4x4 sliders (Trimmed to clear 40's)
JCR Crusader rear bumper
Adams Driveshafts (Custom for UD60s)
https://outlaw-offroad.com/adams-driveshaft-jeep-jl-front-rear-1350-set-rubicon/
I've driven a few different trucks for the last few years, but finally decided that it would be ok to ditch the bed and just get a trailer for whatever I need to haul.
I used to have a white Tacoma that I loved, It was great, and when they came out with a re-design in 2016 I got a new one with every intent of building it out. Well that never happened, I just never felt like I wanted to do anything to it.
I don't have any pictures of the Tacoma after that, but I'm sure anyone can find a stock tacoma picture.
That brings me to today, about a month ago, after 6 months thinking about it I went out and picked up a new JL rubicon.
I had to wait until the JLs came out because I didn't want to go away from proximity entry and all the fancy things inside.
here is the day I picked it up.
The first thing I went for was a 2.5" RC spacer lift. I made this decision based of the fact that it's my daily driver and it has pretty solid reviews.
It's nice to work on things when they are clean.
Next I added a DV8 FS-16 front bumper you know, to hold the winch that has been sitting my garage for 2 years.
Then some 37" general grabbers.
That's where I'm at today, I'm still trying to figure out a few things, like what PSI to run in my tires, I'm at 28 right now and seems like it's still a bit too much in the center.
I see it mentioned quite a bit what the backup camera looks like so here is mine.
Keeping going I went ahead and made a mat for the back out of a 14.00 floor mat from lowes. Not the best, but it keeps things protected for now.
I also had a chance to get out to Uwharrie a bit, so here is a pic after it got dirty, it was dry so cleanup wasn't too crazy.
And a little bit of mall crawling action since this was in an actual mall parking lot.
Added a shelf to the back, would have been nicer had I not used scrap plywood, but it was a $20 mod with the plasti-dip coating included. (excuse the dust)
Put some Artec sliders underneath, this is the only shot I have of that so far
Then I thew bedliner on the interior and got rid of the carpets.
Then I added a usb port to the top of the dash for my GPS setup.
After that we got a set of method standards put on.
JCR rear bumper (Tire carrier is on the way..)
And I took it out for a little spin/ camping trip.
Last but not least I installed a Rock Krawler X factor lift. ( no pic yet)
After installing my rear tire carrier and a full load my bad end seems to squat a bit too much so I went up to a 3.5" lift in the rear.
here it is after the new springs.
There is also a good chance I may have gotten stuck
This happened before I got stuck, but I ended up getting a service shifter code, so I got to figure out how it looked on a tow truck.
Thanks for checking out my thread!
-Cody
Last edited: