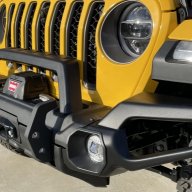 Joined

Dec 25, 2020
Messages
Reaction score

140
Location
Vehicle(s)

2021 JLUR (soon)
The reality is that you've made an expensive mistake. Yes, the used market had a moment where things got upside down, and back in June you might have been lucky. But I think it's a little entitled to think that because that happened in the past you should expect it to happen for you now. I think you need to swallow the pill and deal with the situation. That can be living with it or negative equity. Either way, it's not easy. But don't expect to be allowed to rent (lease) a brand new vehicle for free for 4 months. You all in got to rent a nice vehicle ordered to your spec for under $60/ day ...if I did my rough math correctly. That's not too bad.
That's my thinking too.
Getting out of a lease is not usually easy. You agreed to 48 months of renting that Jeep with a certain mileage limit etc. You have to fulfill that agreement or you are subject to whatever early termination clause you agree to. And those are usually quite harsh from a financial loss viewpoint.