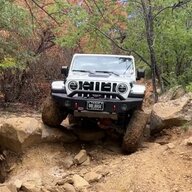 First Name

Brad
Joined

Jul 18, 2020
Messages
Reaction score

903
Location
Vehicle(s)

2020 JLU Rubicon Recon, 2021 JLU Rubicon
I'd been kicking around the idea of upfitting my RAM 2500 for light offroad / camping duties and ended up getting a JLUR with 2.0L eTorque instead. Within 3 weeks of purchase we went for a road trip to Colorado and made it back a few days ago.
Tue 7/28
Left the Dallas area enroute to a BnB in Taos NM with lots of wide open spaces in between. Averaged about 19.5 MPG heading NW.
The BnB was really cute and they had llamas...
Wed 7/29
We found some side roads to explore while working our way into Colorado.
I Christen thee: "Nipple Mtn!"
Finally got to Black Mtn Lake and set up camp for two days.
Thur 7/30
Woke up to some noise across the lake. Was afraid it was a bear but thankfully it wasn't
Fri 7/31
Packed up and headed up trail 518 - Carson thinking 1) that it would be easy and 2) that we'd be able to make it across Engineer Pass to the campsites on the Poughkeepsie Gulch trail.
We had a bit of a scare with the Jeep though (high altitude, high angle climb engine dies and the voltage starts to plummet) so we aborted to Lake City which, by the way, is a really cute little town. While there I scoured the interwebz and found (on this forum of course) that the electrical issue wasn't unique to us. The resolution is to restart the engine a second time after the initial restart. The computer tells the charging system to stop screwing around quit discharging the batteries the second time.
Sat 8/1
Since we knew what the resolution was we decided to proceed across Engineer Pass. The problem occurred 3 more times during the trip.
This house is for sale btw
and found an awesome camp site
Sun 8/2
Attempted Poughkeepsie gulch and got a harsh reminder about being overconfident. We were following a couple of stock jeeps and in my head was thinking well, if they can do it I can do it too. So I was going faster than I would have had we been on the trail alone...
...and cut a sidewall. Doing a trailside tire swap but thankfully no other damage.
Spent the rest of the day reflecting on my mistake, drinking local craft beer, and trying to enjoy the camping.
Mon 8/3
Called all the tire shops in the area and the closest place I could find that had a replacement was about 2.5hrs away in Rapid City. While calling around I found out that trail rated jeeps (which includes
all
Wranglers) have 2 years coverage by Jeep Waves and the tire was going to be covered! Wow, nice! Got back to camp and spent the rest of the day doing camping things.
Tue 8/4
Did Ophir pass (sort of blah and super rocky on the Telluride side)
and Imogene pass (more bueno!)
Explored the ghost town of Tomboy
I'm not gonna lie, I was scared to drive all the way out on the rock...
Coming down into Ouray we came across a young lady on the trail with a 3 month old baby. She and her husband had been trying to get up to a cabin and he decided the road was too rough. When trying to back down the hill he got hung up on a log and stuck so we got around and winched him off the log.
Afterwards we left the way they had come in. I kept thinking
I don't know how they had made it as far as they had
. The road had several shelves and large rocky obstacles.
Wed 8/5
Packed up and headed out a day earlier than planned. Even though we were camped next to a stream the cold sponge baths just wasn't cutting it and we wanted a hot shower. We had Thursday reservations at Black Mesa BnB in the panhandle of OK. Figured if they could move us up a day great, if not we'd find a hotel somewhere along the way. The vacation Gods smiled upon us, and they had a cancellation so we could slide up into the newly opened spot.
Coming into the Black Mesa Bnb from the North put us on gravel roads for about 45 minutes. We passed the time by joking that the proprietors were probably cannibals...
Thankfully this was NOT it...
Vicky and Monty were great hosts and breakfast was exceptional. Highly recommend them if you're passing through the Oklahoma pan handle.
http://www.bmbb1.com/
Had to get these the next morning.
Thur 8/6
HOME! A little dirtier but what a memorable trip!
While in the mountains our MPG came down to about 15 which still seems really good considering all the time spent in 4L. Coming out of the mountains we got up to 21.5 and then it settled to around 19 MPG as we got closer to TX. When I was driving I'd go about 2 MPH less than the limit, my wife likes to drive about 2 MPH over...