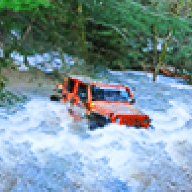 First Name

Casey
Joined

Feb 14, 2020
Messages
Reaction score

131
Location
Website
Vehicle(s)

2008 JKUR | 2020 JLUR-D | 2016 Corvette Z06
Occupation

Video Creator
We were pulling things apart for the new suspension and came across another variance with the diesel.
It seems that the jounce tubes are longer then gas models. I suspect to limit up travel rather then adding more bump stop shims perhaps. It seemed that the factory upper control arms might of hit cooling lines, or the top of the diff hitting the oil pan so additional bump stop was needed.
I noticed then when we trimmed 2 inches off the bottom to prepare to add Teraflex Speed bumps. After cutting 2 inches off, the Speed Bumps would not come through the top of the Jounce tube. We decided to cut an additional 1 - 7/16 inch off the tube which would give adequate room now for the Speed Bump. With the additional 2 - 1/2 inches of axle side bump stop should take care of any clearance issues with control arms and the engine/ cooling lines, as tires are going to be the limiting factor in up travel now and be bump stopped appropriately.
This may be important for others as it may affect how much additional shimming you need to do for larger tires as the jounce tube will be longer. If your adding Teraflex Speed Bumps this is something to consider. It might also be something to consider if adding a truss and how much clearance there might be around the engine oil pan and lines around the lower motor.
We aren't done yet but I figured I would post my findings. And see if others had noticed. I will cover it in an upcoming video as well. Just one more challenge of being first haha.