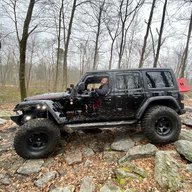 First Name

Adrian
Joined

Mar 29, 2018
Messages
Reaction score

49
Location
Vehicle(s)

2000 Trans/Am WS6 + 2018 JL Rubicon Unlimited
Occupation

Director of Commercial Operations (TWF)
Vehicle Showcase
Hi All!
I've got some interesting data listed below as well as looking for first hand experience feedback.
Vehicle:
2018 JL Unlimited Rubicon (auto)
Weight:
5,370lbs (full tank, not in vehicle, all regular gear loaded) which is a gain of
+940lbs
over original curb weight (4,430)
Tested Altitude:
800ft +/- according to Gaia GPS
Tire Size:
37" General Tire Grabber X3's (79.7lbs)
Math:
New tire size (37) divided by original tire size (33) = 1.1212 multiplied by original gear ratio (4.10) = 4.5969.
I realize that the closest gear match would be 4.56 but I'm looking to go 4.88 to compensate for the extra 940lbs + any other mods I add. I'm also in the mountains a lot in the North East (VT, NH, NY, Maine, VA, etc).
I've attached all current RPM results of each gear (6th, 7th, and 8th) and highway speed (65, 70, 75, and 80mph) below with this current set up. (see attached photo).
Does anyone have results of a JL or JLU at highway speeds with 4.88's? I've love to compare prior to my trip to the shop!
Thanks everyone!