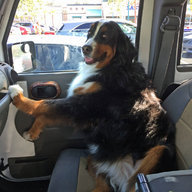 First Name

Ralph
Joined

Aug 10, 2017
Messages
Reaction score

551
Location
Vehicle(s)

2018 jlu rubicon. Surfboard. Bare feet, moose drawn air sled, Interstellar time warp space transport fighter
Occupation

Engineering Geologist
Yes the bronco is pretty cool. They certainly took aim at the Jeep? I wonder if they had To build it on their own would it have been this rig that emerged? It's a lot easier to say ok the Jeep has this let's do this.......

However in my view ford pretty much abandoned us for 24 years. While Jeep continued. So will history repeat itself.? Like what Toyota did with the fj cruiser? Here today gone manana ? Or Nissan who had the old patrol then the Xterra then nada? And Chevy too ? Blazers then what? It still pisses me off that Chevy put the blazer name on what looks like a Mazda. Instead o taking a zr2 and building a really capable. SUV.

So will the bronco be here in 5 years 7 years? Etc.

to me ford is like your old hot girlfriend who dumps you then disappears and only shows up years later when you are doing good and wants back in. Do you let her knowing that she could do it all again?