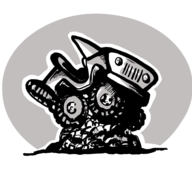 Well-Known Member
Rock Sponsor (Level 1)
Joined

Apr 18, 2017
Messages
Reaction score

7,653
Location
Website
Vehicle(s)

2021 JLU Rubicon, 2017 Chevy Tahoe
Build Thread
So I got to "see" a couple of Broncos this past weekend. They were in a dealer's parking lot and were not allowed to be test-driven.

Both of the Broncos were 4-doors with soft tops. One was an Outer Banks and one was a Big Bend. The Big Bend had cloth interior and a manual. Outer Banks was automatic.

The interior was a little better than I expected. I liked the grab handles and some of the interior layout. The center stack has some really ugly Ford parts bin parts, for example the AC controls. The layout accommodates larger infotainment and a wireless charging pad for your phone, which I think integrates with wireless CarPlay and Android Auto. I like how the Aux switches are overhead. I didn't like the placement of the window switches and I don't like the rotary TC selector. I like how there is an option for charging ports at the top of the dashboard. Overall, I think the Wrangler interior is much better-looking, but Bronco has better tech.

The Outer Banks had gray/blue interior that was kind of vinyl/leather. It didn't look very good to me.

I also noticed that the doors don't require you to pull off trim pieces and remove bolts for the door checks to disconnect.

Visibility with the soft top down was terrible. Rear visibility overall was poor compared to Wrangler.

Turn indicators in the mirrors and body-colored mirrors on the Outer Banks looked nice. The fenders on the Big Bend didn't look as bad as I thought they would.

I'm a big fan of the frameless windows. Definitely feels and looks more open than a Wrangler with the top down and the doors on.

The interior was very open with the top down without the sport bar, but I think I would miss the dome light and speakers.

Lack of AC vents in the rear of the 4-door was a big miss.

I know styling is subjective. I like the grille and the overall shape and styling. But to me it doesn't look better than a Wrangler from any angle. Obviously the top is a little chopped compared to the Wrangler. The shoulder of the doors is a little higher on the Wrangler. The end effect is that the Bronco feels a little more low-slung than the Wrangler which is more upright, if that makes sense. From the rear they look almost identical. The Front-end has some issues. The bull bar covers the Bronco logo and the winch has to be mounted on top of the bumper (if the bumper even accommodates a winch).

That's all I can speak to without driving it. As it sits in a parking lot, it feels a LOT like a Wrangler. For the causal buyer I can't imagine not cross-shopping it with a Wrangler once it is generally available.