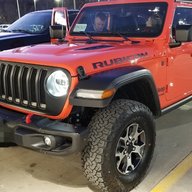 Joined

Nov 17, 2019
Messages
Reaction score

46
Location
Vehicle(s)

2020 JLU Rubicon, 2018 VW GTI Autobahn
At least one other person has weighed in on this already, but my 2dr Rubi with steel bumpers, LEDs, and painted fenders (i.e. basic options) was just under $40k. Not sure where the "over $50k" 2dr Rubicon comes from.



You haven't been following Ford too closely lately have you? Google Ford Explorer launch or F-150 recalls for some good reading...



This right here in bold may be the dumbest thing I've ever read. Why the fuck would I care what the MSRP is, if I just paid what I consider a good price for something? Like I said, I paid about $40k for my Jeep... jeep could say the MSRP is $250,000,000.00 for all I care, as long as I paid $40k I'm happy. Ford could say the MSRP of an equivalent Bronco is $1,870,000,000.00 but if the dealer lets me have it for $32k maybe I take that instead of the jeep. Well... if it was actually for sale maybe I would.
It's REALLY simple. You need a "common metric", a "common variable", a "static variable", for worst case comparison. Of course nobody (usually) pays full MSRP. But as others have pointed out, depending on location, sales so far that month, volume the dealership sells, your awesome negotiating skills, and a myriad of other factors, "what I paid", is an incomplete sample size. Maybe you a paid the median price. Maybe you paid the mean. or maybe you are an outlier? Now, there HAVE been multiple "What i paid" threads and people have reported anywhere between 2 and 10 percent under invoice. On one hand, that goes to my point about sales price volatility. But, even if you use those numbers to say the average sale price is 4.5 percent under invoice on a wrangler, and that is an average we all agree on, it doesn't matter. At the moment we have zero data points on the average sale price of a Bronco, so a comparison still cannot be made as to the better "value". The ONLY two constants we have for comparisons is MSRP. That is the reality of the facts we have on hand and the only current relevant discussion starting point on which is a better value.
But.....I'm recently off of surgery and full of oxy, so WTF do I know?