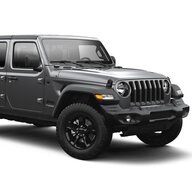 First Name

Mandi
Joined

Aug 16, 2021
Messages
Reaction score

32
Location
Vehicle(s)

2016 JK, 2021 JL Sport Altitude on order
I sat at 12wk late last year, got hit by both end of year holidays, and would have been beyond disappointed if it showed up in the wrong color. Mine is granite

and I doubt I would like the sting, so I empathize; there's maybe one other color I would have accepted if I liked it in person, but this is not

Start searching listings to see what you can find; people cancel and there are still non-sold orders getting built. Color is hard to change; a soft top is easy to add; aux switches are easy enough. And if you were going to lift it anyway, or only lease it for 12mo before ordering another...

Find some calm, a bunch of energy, go to the dealer and take a look, get them to cover the fee for a new order. If they don't behave maybe recheck these forums for reviewed/recommended dealers and place a new order there. Seems like Gupton gets them in 17 days or something crazy, so maybe flying is the way to go.
To be honest, Granite was my second choice color anyways and so am I disappointed, yes, but I'm going to keep it not reorder.
More pissed at the dealer who tried to tell me I ordered it that way (they eventually came back late yesterday and admitted it was their mistake). Sooo...I've decided I'm going to just try and get some money off the price or a lift added like was suggested earlier. We'll see what happens.