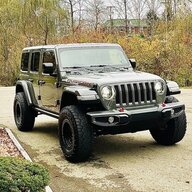 First Name

Harvey
Joined

Jul 9, 2021
Messages
Reaction score

22
Location
Vehicle(s)

2021 JLU Rubicon
Is anybody getting any discount off of MSRP for Rubicon orders?
went to three dealerships and was told no discounts on rubicons, nobody wanted to negotiate.
Ended up getting it for $58k OTD

JLUR Gecko
Manual transmission
Leather seats
8.4 display
Color matched fendeds and hardtop
Proximity entry
I think it depends on region. My local dealer/salesperson is a very good friend of mine. This is a guy that I hang out with, watch sports and have a few beers with once or twice a week... a guy that comes to my kids' birthday parties. He said the same thing. He said if you're special ordering a Rubicon, it's sticker and some people pay over sticker. When I told him that I could get 5% below invoice, his reply was-- don't even come see us... go get that deal asap and I won't even feel bad about it. (mainly because as a salesman, he makes $200 at most on a new car)
Since a few people on this forum are saying they were able to get 5% below invoice, I called about 5 or 6 dealerships. The best deal I could find was 1% below invoice with the Tread Lightly membership. No one would even consider doing better than that.
After shopping around, I went back to the local Jeep store/friend (like 2 miles from my house). I told them I was able to find 1% below invoice. They agreed to sell it to me "at" invoice and due to the convenience factor, I was happy with that. The price isn't that much of a difference and this dealership has been good to me with my other vehicles. They weren't familiar with the Tread Lightly program, but they said if the code worked, they would do invoice.
They also mentioned that they are not a very high volume dealership (around 40 Jeeps per month) and they rely on gross-per-deal to make a profit and survive. They said maybe a large dealership that sells hundreds of Jeeps per month could do it and make up for it on the back end.
My Rubicon stickered for $53,320 and I'm getting it for $50,395. My buddy said I got one of the best deals he has seen at their store. I know I could've done better if I kept on pressing, but this is where I felt that the deal was good enough for me and I was tired of playing the game.