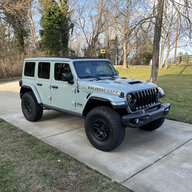 Joined

Sep 5, 2018
Messages
Reaction score

166
Location
Vehicle(s)

'21 Jeep Wrangler Rubicon 392
Vehicle Showcase
OK guys and gals, time to get this game rolling. Feel free to post questions but the rules are simple. The more people that get involved the more fun it will be, so lets see how long we can keep this rolling.

Here are the rules for the Jeep Wrangler Picture Game:


Name a place or thing to take a picture with your Wrangler. First person to go out, take, and post the picture, picks the next challenge. The picture must be taken after the challenge is picked. (There are no prizes y'all so have fun and take legit pictures) Try not to make it impossible. No photoshop. If no one else gets the picture within 1 week, the person that picked it can choose a different one.


New challenge must be picked when picture of the last one was posted. So when you're posting your pic, also include the next challenge after the pic. See Rules


Rules:


1) The picture must be taken AFTER the challenge is picked.


2) After 3 days, the person who made the challenge can post their own picture and pick another topic.


3) If a challenge is not met after 1 week a new topic is picked by the previous challenger winner.


4) If a pic is in dispute, it needs 3 yes votes to be accepted.


5) After any comment, please put the current challenge at the bottom so everyone can stay up to date.


6) Pictures must be taken while Outside of your Wrangler.


7) Pictures must be taken AFTER the challenge. Rare exceptions such as pictures taken on the said day BEFORE the challenge may be accepted only by 3 acceptance votes.


8) The following types of challenges are NOT allowed:

-action shots (any pic that the Jeep is moving..see Rule 6)

-challenges involving other people

-duplicate challenges

-illegal challenges


9) If a picture has been posted but a new challenge has not been picked, the current challenge is still active until (a)new challenge has been picked or (b) another Wrangler owner posts another picture satisfying the challenge and picks a new challenge.


10) If a challenge goes 4 days without being completed players may hunt and post past incomplete challenges to collect wins. Players posting past incomplete challenges do not pick a new challenge, they simply earn a win. The players name is added with an asterix in the completed challenges list and the item no longer qualifies as incomplete. The current challenge does not change.


Remember, the intention of this game is to get out there and enjoy:


With that said, I'll start us with a simple one. Let us begin!




Challenge: Your Wrangler in your garage.
Last edited: