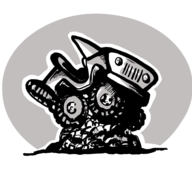 Well-Known Member
Rock Sponsor (Level 1)
Joined

Apr 18, 2017
Messages
Reaction score

6,328
Location
Website
Vehicle(s)

2018 Jeep Wrangler Sport S, 2017 Chevy Tahoe, 2005 Jeep Liberty
It is marketing... they are getting exactly what they want. The day before the Bronco is shown people are talking about the wrangler. To me this shows that FCA is worried about what's about to come. Why wait this long, and even give interviews that a v8 is not possible due to safety concerns and then the day before Bronco all the sudden it's doable? This is no different than all the Bronco "leaks" that came from Ford. It is a brilliant marketing ploy to give those that feel a V8 is " required" hope to stick with FCA longer now that Ford has shown the 2.7 will be a choice that outguns the options FCA has on the table. I would buy a v8 Grand Cherokee in a heartbeat, wrangler not so much. I want the ability to do 150 miles in the desert / mountains in 4 low if needed. A hemi wrangler is not going to do that.. now if I had a purpose built trail rig that does smaller runs, hemi all the way. For daily driver I would want the eco diesel or a new inline turbo 6.
I agree with you. But the inline-6 isn't ready. If they tease the V8 on Instagram and don't follow through it is a fail. I can't see them doing that.
If they wanted to do that they would put out a leak through a journalist - not publish a photo on their Instagram account.
I don't know why I am posting on this so much. I don't really care. I would never buy the Hemi.