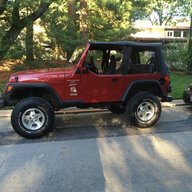 First Name

Zach
Joined

Aug 21, 2020
Messages
Reaction score

80
Location
Vehicle(s)

2016 JK Wrangler
Just my .02 concerning the new half doors, for those of you who are like me and LOVED the TJ half doors. On my 2016 JK, I purchased factory half doors from someone on the forum. I also upgraded the Mopar uppers to include glass sliders (which is also what I did on my ole Red TJ). If you get half doors, I recommend this mod.

I was initially happy with the half doors, however due to new door safety standards the newer half doors come up A LOT higher than the ole TJ half doors did and it was more like converting from a new JK full-door to a TJ Full-door (before the new door standards were Implemented). I am unsure when this change was implemented, but for context - new car doors were made with a higher door-to-window ratio (windows got smaller). Long story short, I didn't see much of a difference in the half vs. full size door on the JK, because of this (maybe 2.5" or so, possibly less - I'm basing this on memory, so I could be off). Were they cool - sure, just not anything close to what I expected, compared to my TJ half doors. In the end I sold them and stuck with full doors.

With that said, I do think half doors create a nice symmetrical body line from the windshield back, which is an awesome look - just don't expect it to be anything like the ole TJ half doors.

I think the asking price is too high for something that doesn't make a huge difference - at least when you compare these to the older TJ half doors. The reason I loved the old TJ half doors is because it gave you the feeling of driving without doors; however if rain came, you could just toss in uppers and be covered.

Now if for $4K Jeep made it possible to safely store full or half doors in the back of the jeep (i.e. new Bronco), that for me would make it worth it $$$$.
Last edited: