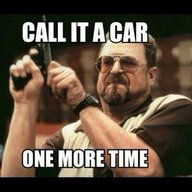 First Name

Mike
Joined

Aug 16, 2018
Messages
Reaction score

4,345
Location
Vehicle(s)

2019 JLUR Stingray 2.0 turbo
Vehicle Showcase
I find it sad that the social pressure is enormous to only tout the "good" rather than have an honest conversation.
Sad indeed! It happens every time a decision is put forth that concerns anything larger than phone holders or floor mats.
Every thread about 2.0 vs 3.6 and now gas vs diesel, can't make it past the first page before losing all credibility and usefulness to the OP. They started the thread as an admission to not knowing enough to make a sound and informed decision. Furthermore, think about the countless others that unknowingly based their decision on grossly tainted information, after putting their faith in that thread.
Quick analogy. You don't want to pay a plumber to fix a leaking pipe in your home. You've qued some diy youtube videos, featuring a likeable personality, and now it's off to home depot for supplies. Would you rather the advice of a retired professional, or of a person restocking random shelves that happened to be in the plumbing section?
Those above mentioned threads are overrun with responses made by those who aren't qualified or experienced enough to be posting at all. But they do anyway, while failing to admit the fact that they are clueless in the matter. Unfortunately, only the small percentage of members here, who actually do have said qualifications and experience, can easily see who's who by simply reading the responses. As time passes, so does our inclination to chime in to help. It's because the incentive to help gets burnt out in arguing with the type of person that thinks they know everything, but really doesn't and can't/won't admit it. This false sense of damaged pride both limits themself, and robs the poor OP of getting proper info and even knowing they were robbed of it.