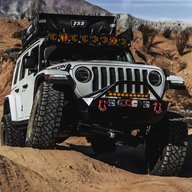 First Name

John
Joined

Jul 24, 2018
Messages
Reaction score

75
Location
Website
Vehicle(s)

JLU 2018 Rubicon
Occupation

Network/Systems Engineer
About a month ago, driving down a washboard trail, All the warning lights in the jeep went off all at once, and the dreaded message about turning off the engine, the engine will stop shortly popped up on the center screen between the tach and the speedo. I made a U turn and high tailed it back to the main road, which was only a mile away. The main alternator cable vibrated loose and came to rest on the exhaust manifold just in front of the catalytic converter, melted the insulation, promptly shorted, then caught fire! I got the fire put out in short order.
The picture is the Alternator cable disconnected from the PDC fuse bus (7)
I installed a Genisys dual battery system in my JLUR a year or so ago. ( the directions said to tuck that cable below all the others, and I didn't realize there was enough slack in the cable to reach that part of the engine) I'm not placing blame, I should have known better ( ignorant me)...
I was out in the Mojave desert (on my way home) when it happened, 217 mile tow cost me a fortune.
Anyway I just got the jeep put back together after going through all the wiring in the vicinity of the fire (it all survived) I was able to get the fire put out fast, nothing else was burnt. ( consequently, for peace of mind, I also re-did all the wiring I installed for all the lights, winch, fridge, all the rest of my gadgets and doodads, ran it in split loom, and secured it to the point of absurdity)
I have tested my alternator for voltage, and it hits 14.5 volts, but that voltage never gets to the battery. I tested the battery voltage with the engine running and it stays at 12.1 to 11.9 volts. That kind of tells me that the alternator isn't charging the system... Also after I let the jeep idle for about 2 minutes the warning about stopping the engine comes on again... Would this main bus fuse come into play (68368853AA I don't have the tow package or Aux switches )
thanks for any help!