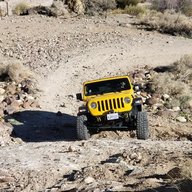 First Name

Jim
Joined

Mar 29, 2019
Messages
Reaction score

4,567
Location
Vehicle(s)

'19 JLU
No offense Jim, I am sure that there are redundant threads out there - in matter a fact some of the thread have so many pages that it is not conducive to just go through all the pages one by one.

And no this OP did not know about other dog threads, although I did search for it before I started one. Also if you read my first post, I wrote in detail about how happy I am owning a Jeep and that my happy feelings increased exponentially when I was with my two dogs. Also I personally reviewed all the photos and put my comments on it (all are positive). This new thread is more personal because had I just join the other thread with hundreds of posting I would not be able to personally relate to people who shares the photos of their dogs, and even encourage them to share how they feel about their dogs and Jeep.

We dogs people like to relate to each other. Unless this my thread is really causing a lot of problem for people, I will be happy to stop. And respectfully, you don't have to get antsy about any thread that you don't approved of. If people don't like the thread then it will be pushed down and be forgotten. Thanks for posting the link to the other thread which was created on Dec 17, 2018. If any poster want to post their dog photos there by all mean - please do. But I check this thread that I started, and the fact that I get to interact with other dogs owners is an incentive for me to keep on making new friends.

I usually just let things slide - but sometimes I really feel like people in this forum can be unnecessarily mean or impolite (I am not referring to you per say) and I really had two rough weeks - and this thread is somewhat alleviate my stress. Granted, because of what I am saying, I might get a few people who will make fun of me or get annoyed at me. But hey its okay. The world is going to hell in a hand basket, and I am grateful if I can find some refuge here with fellow Jeep owners. And if the administrator have problem with this - they can delete this thread or even shut down my account. Just let me be.

Don't let my thread bug you. You are not mandated to click on this and read it. Have a good day!
It's all good Ken, enjoy.