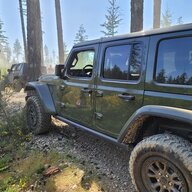 First Name

Kevin
Joined

Jan 19, 2021
Messages
Reaction score

1,775
Location
Vehicle(s)

JLURH
I don't believe anyone has posted axle weights so I wanted to share my results. Few things to note; the jeep was completely empty, it has the stock MT tires vs the AT tires (+50lbs all added up), the tank was just under 7/8ths. Last thing to note is scale location: In the picture where the 392 is on two scales, regardless how it looks in the picture, there is a line on the body under the front doors below the front side of the door handles. That line was perfectly lined up on both sides with the space in-between the two scales. It was placed there from a very slow roll and no backing up not to mess with weight distribution (took 4 tried to get it perfect). When I got back home and measured, I was two inches further on the front axle scale (which is only 1 inch from centered).
Results the Wrangler 392 came in at 5160 lbs, both on single scale and on two separate scales to get weight distribution.
Front axle: 2780 lbs
Rear axle: 2380 lbs
I was interested about it's weight while I'm still piecing together my build, hope this will help some others.