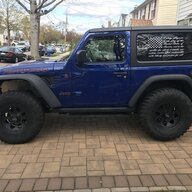 First Name

Kevin
Joined

Feb 15, 2021
Threads
Messages
Reaction score

164
Location
Vehicle(s)

19 2-door manual Rubicon, 09 JKU
So for the rest of us, that apparently missed the indoctrination, haven't attended any of the "what it takes to own a Jeep" classes, and did not receive the additional rule book, someone please explain why people are so afraid of or scared of the Mall Crawlers?

Seriously, how does it hurt you when a soccer mom, or the guy that just likes it but can't risk their one car of-road, or the person who really doesn't want to go off-road but wants a topless and doorless ride buys and loves their Jeep? How does this affect you? Seriously?

I see a lot of complaining on the forums directtowards people that don't meet these arbitrary standards. Standards set by who?

This is the ugly side of Jeep community; judgemental puritans and their "requirements" to be a real Jeep person. I know all car communities have these folks. I just expect more from the Jeep community.

If it's not positive or constructive, just move on. If you think I'm talking to you then maybe I am. You should know, you aren't helping anybody and your not cool.
X2