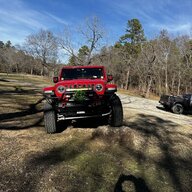 First Name

Vince
Joined

Dec 21, 2019
Messages
Reaction score

139
Location
Vehicle(s)

2020 2 Dr Rubicon JL Hardtop
First and foremost, thank you for your military service. I totally understand the principles and usage of potting and yes, it's nothing new.
Discussions in a forum can be difficult and I fear you're missing my point. Read what you wrote…..
The only way you can pot too late is if your rig is already showing a locker fault. Then the whole idea is moot.
What I am saying is you can try to reflow (bake) the PCB before you conclude it junk. If continuity is lost or near lost due to an inadequate solder soak at time of manufacture, adding potting is unlikely to restore it.
Potting a sensor in advance *might* hold the components in place but it might not help if the component arc opens in its potted mount.
Opinion: I think the reason FCA wants to swap the whole axle is to increase the costs to Dana to make it unaffordable for them to restrict the sale of the sensors. Dana doesn't want to sell the sensors? Fine, eat the cost of a bunch of axles……