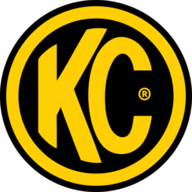 Well-Known Member
Rock Sponsor (Level 1)
First Name

Kevin
Joined

Jul 12, 2021
Messages
Reaction score

286
Location
Vehicle(s)

2020 Jeep JT, 1969 Wagoneer
Build Thread
Occupation

Lighting Adventures Since 1970
So here once I am satisfied (enough) with my build on suspension components, I am planning on adding some lighting and work on my JL's cosmetic appearance…

my first "big" purchase lighting wise is most likely going to be the KC 52" light bar with the Pro 6's.

although I see there is a sale on the 45" KC double light bar. Is there any practical area exterior wise that would "fit" and not look out of place? I've seen everything from 10" 30" bars and usually go on the hood, or bull bars / bumpers. But haven't came across a thread where I've seen a 45" double curved. Any insight anyone?

@KC HiLiTES

do you guys have an opinion on where that would be a nice fit on a rig? Or would that specific bar be more or less for a truck or something? (Which is another option due to me owning a 1500 Hemi, but I don't want to get too in depth with that because I'm inquiring regarding JL's

)

thanks for the input guys
Hello Nathan,
Thanks for reaching out. The light you listed is discontinued and we have extra that we are selling on eBay. It is not really designed for a JL. No real practical place to install it.
It all depends on what you want to use your rig for and how often you think you'll use the lights. If you want to go camping a lot or a lot of night wheeling, I would recommend either the
50" PRO6 GRAVITY® LED - 8-LIGHT Overhead Light Bar
or the new
FLEX ERA 4 (FE4)
on the A-pillar and/or front bumper with the Combo Beam Pattern. If you wont use the lights a lot or want something less expensive, the
SLIMLITE LED
are a great alternative for your A-pillar and/or front bumper .
You will get more distance and a defined light with the Pro6, great for going fast.
Most people will get more use and enjoy the FE4 more. Not as great of a distance as the Pro6, but lights up everything around you. Great for night crawling and camping.
If you want to go all out, you can do the Pro6 bar over the windshield and FE4 Combo beam on the a-pillar or bumper.
The Slimlite LEDs are a Spot beam pattern, but have some good fill light. So a nice all around light.
Another great light for camping and night crawling are the
CYCLONE LED LIGHTS
as rock light and the
Under Hood Cyclone Kit
(used more often than people think). White for crawling, Amber for camping. Amber draws in less bugs.