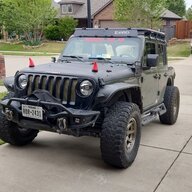 First Name

Greg
Joined

Aug 4, 2020
Messages
Reaction score

7
Location
Vehicle(s)

2020 Subaru Forester Sport
I've never owned a diesel nor ecodiesel vehicle before, so please forgive me if this is a dumb question. I've been trying to look for this info elsewhere but seem to keep getting overloaded by all the hate on the RAM forums. I understand a lot of that was early issues with a new engine for FCA and am looking for an answer more tailored to me specifically.

TL;DR:. I drive 2.6 miles 1-3 times a week, and 15-200 miles all other times. Will those short distance drives kill my engine, or will I be fine?

LONG VERSION:
Okay, so I live in Collin County, Texas and really, REALLY hate emissions tests. I've had a couple of used vehicles over the years and probably have tripled each of those vehicles initial costs in yearly fixes just to pass inspections. So having an ED seems like a really great fix for me. I will be buying a JL regardless, but am wondering if my driving style/regularity would be a good fit for the ED.

I live in walking distance to my job, the grocery store, basically anything I need. For the most part I like to take a drive at least once a day if I can help it, but will often go 2-3 days without driving. When I do drive, it's usually going upwards of 15-30 miles total, highway and around town. Not really any stop and go traffic where I'm at. Speeds range from 35-70. I drive like an old man, you'll usually find me in the slow lane pacing with that work truck. My biggest concern is that 1-3 times a week I like to stop at McD's and get a Frappe before work. This McD's is maybe 1.3 miles away from my house. On weekends I enjoy going for extensive drives. I'm talking "pick a direction" and drive for 2-4 hours in mostly country roads with mainly higher speeds of 50-75. My wife's Subaru Forester just hit 6700 mi. and we got it with 8 mi. back on Aug 14th.

So I drive a fair bit, I'm wondering if those few short drives will kill the engine for me? Also, does idling the ED harm it? I'm a fan of finding scenic spots for lunch, should I turn off the engine, or is idling okay if it's not all the time?