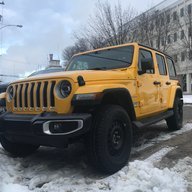 Joined

Oct 22, 2019
Messages
Reaction score

260
Location
Vehicle(s)

2020 JLUS, HellaYella
Has anyone had problems with their fob randomly just not working? The "fob not detected" message came up once for my husband and twice for me.
It's a 2020 JLUS with less than 600 total miles.

Today I drove to the ski hill and couldn't lock the doors (not with proximity lock, or by pressing the button on the FOB). I made sure (three times) that I could still start the Jeep by pressing the fob into the button (I could) then I locked the doors from the inside and sent my husband a message warning him of what happened (on the off chance it won't start when I got back), and went skiing.

When I got back the fob was working as normal. As mentioned the Jeep is brand new so this shouldn't be a battery problem.

Tomorrow I'm going to lock the doors from the inside then use the key to unlock it and hope the alarm doesn't go off (if it does and my fob isn't working then I can't disable the alarm which means I can't lock the doors at all). Then what?