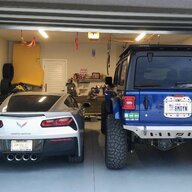 First Name

Mike
Joined

Feb 1, 2018
Threads
Messages
Reaction score

6,464
Location
Vehicle(s)

2018 JLUR, 2020 Acura RDX A-Spec
Occupation

I make microchips for a living.
Vehicle Showcase
I thought I'd start a thread for those of us with the automatic tranny, specifically those of us who want to see a long life with it.
For starters you can throw out the FCA bull$hit about this being a lifetime transmission or it has lifetime transmission fluid in it or whatever they are spewing... it's not.
These are excellent trannys but they aren't without their problems. The transmission manufacturer recommends servicing the tranny by 60k miles and even if they didn't that's when I typically do my first service on a transmission.
I took it to a reputable, well known, locally owned transmission shop where I live. There was no way in the world I would go to a dealer for a tranny service. I want to go where all they do is transmission work and these guys are VERY familiar with this transmission. For those of you who don't know it's been around for quite awhile, it's simply new to the Wrangler.
For starters, on the Wrangler, you do not need to replace the entire transmission pan like on other vehicles with this transmission. On the Wrangler the filter is NOT built into the pan like on other models, it fits INTO the pan and therefore you only need the filter. The shop I took it to recommends NOT doing an entire fluid swap but only to change out the roughly 6qts of fluid that will drop with the pan. You run the risk of shocking the system by doing a full swap.
They dropped the pan and noted a fair amount of debris in the bottom of the pan and that is exactly what he expected to see. For as awesome as these trannys are, the torque converter is slightly undersized and consequently over worked and all of this produces more wear and debris in the fluid. There is nothing you can do about this except stay on top of fluid changes and understand that, based on their personal experience, the torque converters often need to be replaced around 100k to 120k. That isn't written in blood but he was just giving me the heads up.
The filters he had on hand would fit but were about 3/4" too short and he wanted to make sure I had the best coverage possible so he ordered a filter directly from a dealership for it and will button it up tomorrow. I said moving forward I plan on doing a fluid swap again at 90k and then at 120k and he said that is exactly what he would recommend.
The fluid on for this tranny is not cheap... up to $30 a qt. from the dealer but you can get it from Rock Auto for $20. I got 8 qts. shipped to my door for $188 which included tax and $9 shipping and even the guy at the shop was surprised at that price. I'll probably be into the shop for about $200 so you are looking at $400 for the service. Technically you probably could do it yourself if you buy an after market dipstick and are comfortable doing it yourself. I've done it plenty of times on other vehicles but since we wheel this hard, put a ton of miles on it and it's also a DD for my wife, I wanted the peace of mind of having a pro look at it.
I'll update the thread with any new info after I pick up the Jeep tomorrow.