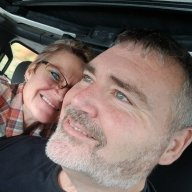 First Name

Ted
Joined

Aug 3, 2018
Messages
Reaction score

9,032
Location
Vehicle(s)

JL Unlimited Rubicon
Occupation

Retired from Corrections....I have stories.
So i take my Jeep to Lafontaine Jeep of Lansing Michigan for my oil changes. I print off their coupon and get three full synthetic oil changes for $100. Can't change it at home for that.... I am a talker. I am chatting with the general manager as he knows me well. I have walked several customers into the dealership and they have bought new JLUR jeeps. The general manager said that he would like to sponsor a trail run or something for the local Jeep community. He is aware that I often lead trail runs for the local jeep club.
I told him, pay for the food for a lunch along the trail, and the fuel in my Jeep and my bud's Jeep, and I will organize a trail run. He was excited and wanted to make it happen. So we set a date for November 7th. and did the trail run. 33 Jeeps and about 80 people joined in. There were 42 Jeeps signed up to go, but like anything else, some did not show. It is a shame that they did not show as I capped it at 40 Jeeps and there were many that may have attended if I had not limited it 5 days for the trail ride was to take place.
The General Manager and the Service Manager joined us on the trail run with their families. They had a great time. I stopped by on Monday and gave him the receipt for the food and gas. The total came out to $488. He was very happy with his experience on the trail ride and wants to sponsor a couple trail runs a year. He thought that the feedback that he got on the trail and the thanks that he got back in person and via the net was overwhelmingly positive.
Everyone got along and zero drama the whole day. Just great people acting cool while Jeeping. The weather was in the 70+ degree, low dust and could not have asked for it to be better weather in November in Michigan. It was an easy tail. Total trail miles were 56 miles. Hit the trail at 1030 and off the trail at 530.
I was trying to keep it to 80 to 100 people as cooking for more than that on the trail can get drawn out.
So Nov 7th arrived and we all met up. So caravaned up with us and some met us at the trail head.
Some random photos from the day.